constance redgrave
bass - vocals - washboard - percussion - flute
click here for black boX
On the road with CHRISTIAN DEATH November 1983 to June 1984
click here for gear page
click here for Thunders Walking lyrics and translation
Born in Los Angeles of Native American roots, Constance naturally transferred her genetic tribal rhythms into the simple, rock solid bass lines that are her trademark and her ability as a compelling vocalist and percussionist perfectly complements this talent. Now living in London she has played with Otis Grand, Steve Cropper, Anson Funderburgh, Hank Wangford, Chris Jagger,
How did you become bass player?: Process of elimination really. I tried a bunch of instruments and was pretty bad at all of them. Bass is such a subliminal instrument that I was 26 before I even realized that it was what I heard when I listened to music. It was love at first play and I am daily so grateful to have found it. Life is worth living when you have a passion and this is mine.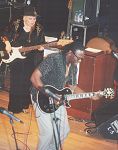 Who have been your influences?: In our house we always listened to The Grand Ole Opera (country music) every Sunday night and my parents were big Glen Campbell and Herb Albert fans. My transistor radio let me listen to what I now know to be the British Blues invasion in the sixties and seventies. The Stones, Beatles, Led Zeppelin and all the usual suspects. I also am a child of the west coast and loved the Beach Boys, Mamas and Papas, and Crosby Stills, Nash and Young for their harmony work. I also still love AC-DC, Aerosmith and a wonderful 1970's LA band called X. Today, my tastes continue to be just a varied and catholic. My regular listening stretches from St Germain, Moby, Zero 7, Chuck E Weiss, Peggy Lee, REM, Paco De Lucia, Antonio Carlos Jobim and Frank Sinatra. It just depends on what kind of mood I am in.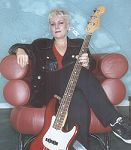 What equipment do you use?: I have a 62 Fender precision bass with 4 year old strings tuned to BEAD (no G string). This is plugged into a Selmer Treble and Bass 50 amplifier. On the percussion side, I have a Zydeco washboard which is played with bottle openers, dog brushes and an egg whisk. See my gear page for more info.
Who else have you played with in your career?: Well, aside from the band that brought me to the UK, Christian Death, I have had the pleasure of playing with quite a list of people and bands. These include Otis Grand, the legendary Steve Cropper, Anson Funderburgh, Debbie Davis, Misdemeanor, Hank Wangford, Chris Jagger, Pierre La Rue, Wes McGhee, Companions of the Rosy Hours, Audio Murphy, Boo Hewerdine and The Colin John Band.
Your passion is obviously your music, what else do you enjoy? I enjoy good food, good friends and a good book. The ancient art of falconry and birds of prey I find irresistible. This has overlapped nicely with passion for aviation photography which has taken me as far afield as the ILA Airshow in Berlin and the Abu Dhabi Aerobatic Competition. I have written a book about my time with Rozz Williams and Christian Death during the 1983 US/European tour and the making of our album Catastrophe Ballet, which I hope to see published next year. I have recently been working on some children's books about the Spitfire and the Hurricane. For a product of the American school system, this has been a real eye opener. I love art galleries, sculpture gardens, and cold water swimming in the Ladies Bathing Pond on Hampstead Heath.
Commendations and Testimonials.
These are things other people have said about Constance:
"This woman lays down a f****** groove!"
Curtis Salgado - Santana, Roomfull of Blues, Robert Cray
"I had to go look to believe this was a chick playing bass!"
Bobby Parker - Born under a bad sign
"This Lady is just about perfect. What a feel!"
Steve Cropper
Constance's Discography

Album/Single Title

Year

Artist/Group

Catastrophe Ballet

1983

Christian Death

Graceland EP

1987

The Bible

Disturbing Dreams

1989

Rupert Parker

Double Harp

1992

Rupert Parker

Shetland Island Sessions
Vol 1 & 2

1992

Companions of
the Rosy Hours

Chris Jagger's Atcha

1994

Chris Jagger

Rock the Zydeco

1995

Chris Jagger

Stilletto Blues with Groove

1998

Misdemeanor

The Best of Christian Death

1999

Christian Death
w/ Rozz Williams

Live Anthology

2000

Otis Grand

Delta Roots

2001

Spikedrivers

Blue Trash

2003

Spikedrivers

aint it real

2005

Spikedrivers

Live at High Barn

2008

Spikedrivers

'seven'

2010

Spikedrivers

Front Porch Swing

2011

Spikedrivers
Christian Death flashback. Click on the image for a larger picture.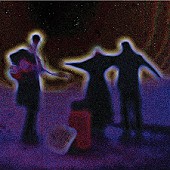 'Across The Water'
our latest cd is on sale now
click on the cover
---
Distributed in the UK by:
Available from CD Baby in
the US and Canada:

---