stuff we like
---
Esteñibar baserria
Sometimes in our travels we encounter something so unique that we believe the very special people who support us should at least know it exists. Fatima and Mikel run a B& B with a difference. High in the mountains above Elorrio in northern Spain, they share their home and their time with people who want to experience the Basque country and its traditions from a more personal perspective. Their vineyard produces Txakolina, a superb white wine that compliments their astounding meals to perfection. The views are a continuous shifting delight and we think the sleep should be bottled as well as the wine. If any of this appeals to you, take a chance.
---
Aviation Classics magazine
Our dear friend Tim Callaway is the editor of a very special publication that specialises on a single vintage aircraft per issue. It is a fascinating in depth study of an amazing industry, its people, inventions and achievements. If you are an aviation enthusiast, don't miss out on a chance to expand your knowledge and feed your passion.
---
The only reason she was sold is because the London Low Emissions Regulations come into effect January 2012 and
we were very sad to say goodbye to her.
---
Maurice has recently taken up copper-foiled glass work. To see some examples
---
Robert Tilling MBE RI

1944 - 2011
On January 25th 2011 we lost a very dear friend, artist, musician and influence. The attached page goes a little way to sharing his life with others and showing our love and respect for a a truly unique human being. Rest in peace Bob
Click here for more
---
Elke Pollard
Spikedrivers love art and artists and we have been fortunate to have met many extraordinary and talented people in our travels. Elke Pollard has been coming to our shows in Northampton for many years. Her presence at the Malt Shovel has always been a joy and her work during these shows has inspired some wonderful pieces. A selection will be used for the artwork on the acoustic live CD due out in 2011. www.elkepollard.com
---
Algerian Coffee Stores
52 Old Compton St
Westminster, London W1D 4P.
The best coffee (and tea) you can buy anywhere. They have a huge range of different types. Not cheap but they always have a 'coffee of the month' on special offer and you can't really go wrong with it. Buy the beans and grind it yourself. The aroma will give you a caffeine hit on its own. If you're broke you can always stand in the doorway and inhale. They even do mail order.
---
Vijay 49 Willesden Lane, London NW6
As far as Maurice and Constance are concerned this is the best Indian restaurant ever! Maurice has been eating here since 1969 – and no, that's not a misprint. The food is South Indian and fabulous, and they don't charge an arm and a leg for it. Make absolutely certain you have a masala dosai. If you don't believe us then read this 2010 review in the Independent http://tinyurl.com/37zfaho.
---
London Glassblowing Workshops
One of Maurice's favourite places. Stunning glasswork by Peter Layton and his team. You can go and watch them making all kinds of amazing pieces. They also run workshops and when Maurice has saved enough pennies and Spikedrivers aren't working on the day they run them, he's going to go on one
---
78 Derngate
The only Rennie Mackintosh designed house outside of Scotland. A small gem designed for the wonderfully named Wenman Joseph Bassett-Lowke who manufactured model trains, boats and cars among many other amazing things. Corgi now have the rights for some of his designs. There's a display of some of his early models in the house.
---
House of Marbles
Exactly what it says on the tin. More marbles than you can play with. If you've lost yours then this is the place to visit. Teign Glassworks are next door and worth a visit too.
---
The Shuttleworth Collection
The most amazing collection of vintage planes including the oldest flying airplane in the world. Not only that but they also have vintage cars, tractors and motorbikes. Come on, you know you love it.
---
'Jammin with the Spikedrivers'
A glorious riffer named Tim on 'Stop Breakin' Down Blues'. Fantastic!
---
BBMF - The Battle of Britian Memorial Flight
Spikedrivers are longtime fans of the BBMF. The flight maintain airworthy Hurricanes, Spitfires, a Dakota and a Lancaster as flying memorials to all aircrew of all nations who lost their lives in combat. We are honoured to have performed for the Bomber Command Memorial Appeal Banquet, held at the former 'Dambusters' mess at the Petwood Hotel in Lincolnshire. Click here to find out more about the Flight.
---
ILA Berlin Airshow
Constance and Maurices photographic skills have taken them to many interesting places, the Berlin Airshow being one of their favorites. Click here to see some of their photographs from the 2010 show.
---
Kenwood Victorian Ladies Bathing Pond
Cold water swimming is a wonderful healthy and invigoration year round passion for Constance. You only need neoprene boots and gloves and a masochistic streak to enjoy such surprising experiences as swimming with white swans in the winter snow and beautiful autumn displays that can rival the northeastern United States. There are also a mens only pond and a mixed pond on Hampstead Heath. Click here to learn more.
---
The Dixie Hummingbirds
Spikedrivers had the honour and pleasure of meeting, singing and performing with this amazing gospel group several years ago. It so profoundly effected us that we started to develop our own harmony singing. Our new album 'seven' owes a great debt to their influence. Thanks guys! Click here for more information.
---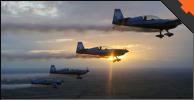 The Blades Aerobatic Team
A bunch of ex-Red Arrows pilots got together to form Britians newest and most exciting air display team. They invited us to watch their first public display and play their launch party at their headquarters at Sywell in Northamptonshire. Click here
---
The art of Michael Tyzack
We have added a new page to our website in tribute
to Bens Father, Mike Tyzack: a great artist and a fine musician.
Click here to read more.
---
Fergus Hare.
Fergus Hare is an extraordinary artist, his website address is below.
Website: www.fergushare.com/
---
The Yorkshire Sculpture Park.
Yorkshire Sculpture Park
West Bretton
Wakefield
WF4 4LG
Tel: 01924 830302 Fax: 01924 832600
E-mail: info@ysp.co.uk
Website: www.ysp.co.uk
---
The Hawk Conservancy.
The Hawk Conservancy, Weyhill, Andover, Hants SP11 8DY, UK
Telephone: +44 1264 773 850
(UK office hours only)
Fax: +44 1264 773 772
E-mail: info@hawk-conservancy.org
Website: http://www.hawk-conservancy.org
---
Museo Chillida-Leku
Bº Jauregui 66 E-20120 Hernani (Gipuzkoa) Spain.
Tel.: +34 943 33 60 06
Fax: +34 943 33 59 59
Email: chillida@eduardo-chillida.com
Website: http://www.eduardo-chillida.com