Blues Matters! interview - november 2011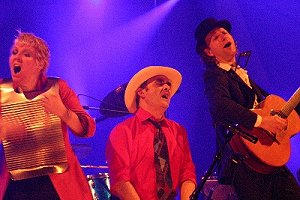 BLUESIN' SCHOOLS
When in Britain in the late fifties and early sixties the Blues emerged as a musical force in Britain, apart from existing Blues aficionados its earthy rawness grabbed the attention of the young generation who, until that time, had been presented with the pap of Tin Pan Alley.
The Blues following expanded over the next decade or so with British bands such as The Rolling Stones, John Mayall and the Blues Breakers Eric Clapton, Savoy Brown, Fleetwood Mac, Yardbirds Led Zeppelin et al, to the fore.
As the generation that supported that movement matured, the younger generation that followed took to other musical genres that the blues spawned. As we look about us at live Blues performances nowadays, we have to concede that the majority of the audiences are the wrong side of forty.
Ironically there is still a regular evolution of talented young Blues musicians though they don't appear to bring many supporters from their own generation. The influences that drew them to the Blues seem for the most part to come from their parents. So if these performers are to have an audience twenty or thirty years hence, then it's the younger generation that we, and they, have to woo if the music we love is to survive.
The younger generation these days have a welter of musical genres thrown at them by a raft of media sources that previous generations never enjoyed. Sadly it is rare that the blues part of that experience although to the educated ear the essentials of blues can be detected at the base of most of it.
So how do we address this issue? Issue 58 of BM contained an interview by Alan Harvey in June 2010 with that talented trio, 'The Spikedrivers'. In the interview, Alan touched on the fact that the band plays in schools and despite that eternal juvenile thought, 'that if Mum and Dad like it can't be cool' they seem to be bucking the trend.
I thought that this evangelical movement by Ben Tyzack, Constance Redgrave and Maurice McElroy worthy of further exposure as to the how and why they do it and in so doing perhaps encourage other bands to also bring 'the devils music' to the young!
So I managed to get an interview with the three troubadours during a busy season of touring.
BM As you mentioned to Alan Harvey last June, your touring itinerary sometimes includes visits to schools. How did this laudable activity first come about?
BT: We signed up to be part of a thing called Big Arts Week, which covers all of the arts and they place you in a school. It works on a volunteer basis so there was no fee but it was a great experience. The basic format that we came up with for this event is still the framework of what we do now.
BM So since that first foray, have subsequent gigs come from your promotion or word of mouth?
BT: Most of the workshops we do in schools comes from someone seeing us live and they might be a teacher themselves or know of a school that would be interested in what we do. There have been some that have searched the web and found us. We do have a page on our website, which covers all the details of what we do, and there are also some priceless comments by the kids
BM With the paranoia that surrounds involvement with children these days, did you have to undergo some sort of screening/qualifying process by the authorities?
BT: All three of us have been cleared by the CRB (Criminal Records Bureau) and as members of the Musician's Union we also have liability insurance cover.
CR: There are also teachers and school staff in the room at all times.
BM What age ranges do you play to?
BT: All ages from infants to GCSE music students, we adjust the content and presentation to ensure that each one is pitched at the right level.
CR: We have also done this workshop with special-needs groups and even adults. We try to make it accessible to everyone.
BM As a band you have a very wide repertoire encompassing most of the blues variants. Do you cover the whole range with the children or are you selective?
BT: Usually our workshops run at about 90mins which is a good amount of time and even the little ones stay really focused during that time. We try and cover a wide range, from early field hollers, Gospel and county blues all the way to the high energy Chicago style of Blues and Boogie Woogie.
BM Knowing you guys, I would guess you are proactive in your teaching. What additional kit do you take with you?
BT: You guessed it, we carry a whole bunch of stuff. As well as the normal drums, bass and many guitars, we also bring a lot of percussion. The students love the goat's toenails and as a result of our workshops we have had schools buying Cajons for their music departments. Then there's a very rough and ready Diddly Bow, to demonstrate the beginning of slide guitar and we also have starting having the students join us playing kazoos. This works like a horn section, we have had up to a 24 piece Kazoo section which a hell of a sound.
CR: In the end our message is that music is available to everyone because it all starts with clapping, stamping, singing and instruments you could make yourself. You don't need a lot of money or even a music store. You don't even have to like our music. Just turn the dial on your radio and find out what you do like.
BM I have no wish to be intrusive but you are professional musicians, so how are these activities financed in these days of financial strictures?
BT: It's hard for schools, I don't know how all the funding works but most of them work it into their budgets. Some others combine with other schools to help with the costs and they will bus the kids in. Other schools have asked the parents to contribute £1 to help with costs. It's usually one teacher that really feels inspired to have us visit and they'll find a way of doing it. I think as a result of doing this work for many years now, we all have a huge respect and admiration of teachers.
BM Do you think that there is a need for other bands to follow in your footsteps or is the market a small one?
BT: There are a lot of schools out there, so there's most definitely room for more bands. The three of us really love doing this work and find it tremendously rewarding. It might not be for everyone. Some musicians are more comfortable just as players rather than getting into teaching. I think we are a bit of both.
MM: You do have to be prepared to get up rather early though. Setting up at eight o'clock in the morning isn't for the faint hearted!
BM Have you ever been surprised with a talented youngster from the audience?
BT: Every single time we do one. The talent and enthusiasm from so many of the kids absolutely amazes us. When we are playing you can see some of them really switching on and there is a light that comes on and boy do they get it.
CR: It's a real buzz to have a group of 200 little ones clapping in time and then stopping all together. The teachers are amazed. So are we.
MM: Sometimes you wish you could drop in a few years on to see what happened to them. We've seen one or two kids develop into serious musicians and hopefully there's a lot more out there.
BM I am saddened by the fact that the blues audiences in this country are almost exclusively white even when black musicians are playing. So what has been the response when you have worked in schools of mixed ethnicity?
BT: We've played for a really wide range students from all kinds of backgrounds and they all seem to connect with the music. Especially the smaller ones, I think the rhythms are so infectious that even if they have never heard any of this music before they just get into it. They always surprise us in how much detail they are taking in.
MM: The thing about the younger ones is that they have no preconceptions. They either like it or they don't and that's it. With the older ones there's always the element of 'is this cool?' or 'does my friend like it?' but it doesn't seem to have a lot to do with ethnicity.
BM As always with kids you must have had some amusing experiences to recount?
BT: I remember at one school we got all the kids up and dancing about and they were getting a little wild.
BM I know a few adults like that!
BT: Afterwards the teacher said 'we like enthusiasm and excitement but not hysteria.'
As a result of those comments at the next workshop, which was in Orkney, we were keeping things a little calmer until one of the teachers asked if we could play something really, really energetic for everyone to dance to. It turned into complete madness and we definitely reached hysteria but they all loved it including the staff.
BM I suspect single malt in the pudding!
CR: We have also had some great feedback from parents the following day. A mother in the Channel Islands thanked us 'very dryly' for the kazoo recitals the family had enjoyed at last night's dinner and again at breakfast… We told her they were only cheap toys and would probably break quite quickly, but I don't think she believed us.
MM: There was one time when we were doing the big finale and there was boy playing Cajon. He was pretty small so when he sat on it his feet didn't touch the ground. The Cajon was way out front as always but he got so into it and was hitting it so hard, that he made it slide all the way back into the drum kit. If you want a good laugh though go to our website and take a look at some of the pictures the kids have drawn of us. See yourselves as others see you!
BM Finally, is there any other pertinent aspect of bluesin' schools we haven't covered so far?
CR: I might add that one of the added bonus' of doing these workshops is that often these kids have never seen or heard a drum kit in isolation or a slide guitar, or know what a bass guitar is, much less that it's not just for the guys. The X Factor is great for finding 'stars' but not everyone in this business is in it to be a star. Some of us just want to play our instruments well and enjoy the buzz of playing with other people. I would hope that our workshops are planting a seed in the minds of the next generation that maybe wasn't there before.
MM: Yes to your question, funding. We know that there are a lot more schools who would like to have us and other musicians, come and work with them but they can't afford it. While there are some enlightened authorities and individual teachers who know how valuable something like this can be there are still too many who don't. Music can open kid's minds and that's what education is supposed to be about. Even if the powers that be can't understand that then at least they could get their heads around the idea that music is an industry that earns billions of pounds for this country every year and it starts in a school.
BM What no commercial?
BT: Well I'd just like to say that if anyone is interested in booking us for a workshop please get in touch and also to say thanks for your interest in this side of the band's work.
So there you go readers. If the Blues is to have a future and you are a teacher, a governor or parent on a PTA committee or a band prepared to give time to spreading the gospel of the Blues – get your clearance and go to it! Promoters – perhaps you could persuade your local school to take an afternoon gig prior to your evening one? The opportunity appears to be there – let's take it.