news - Winter 2023
'All The News That's fit to Print '
Happy Holidays to everyone !
Hi all! Spikedrivers here, sending you holiday greetings.
2023 has been a year of changes and surprises for us.
First and foremost, after 24 years as a three piece, we now have a new band mate. Meet Roger Nunn, percussionist extraordinaire. He is too much fun! We have been doing amazing shows and had some very excellent adventures.
And next year is looking promising indeed! Watch this space…
If you are out and about looking for some music over the next two weeks; we can offer five possibilities. Hopefully one is near you .
Spikedrivers at:
05-12-23 The Bent Arms
98 High Street, Lindfield, West Sussex RH16 2HP
07-12-23 The Cellar Bar
Farnham Maltings, Bridge Square, Farnham, Surrey GU9 7QR
08-12-23 Emsworth Music Club
The Emsworth Sports & Social Club
43-45 Havant Road, Emsworth PO10 7JF
09-12-23 Blues @ Barleylands
Barleylands Depot Barleylands Road, Billericay, Essex CM11 2UF
Saints and Sinners at:
18-12-23 Midnight Special Blues Club 'Christmas Party'
@ The Cabin 173-175 London Rd, Camberley GU15 3JS
Best wishes for 2024; good health and prosperity to you and yours.
Ben, Maurice, Constance and Roger
Message from Maurice
Congratulations are in order!
A great friend of mine, Clive Wilson, has just won First Prize in the Keele University Three Counties Open Art Exhibition with this portrait of a man arriving in England in 1955. You can see it, and other entries, here https://art.kunstmatrix.com/en/node/1039490
where you could also vote for it in the Peoples Choice Award if you felt so inclined. The link is just below the text for the picture. You have until September to vote. We think he should win!
Woo Hoo! - Spring!
And stuff is happening out there...
We have Spikedrivers and Saints & Sinners shows in the diary.
I have just updated the list click here
We are so looking forward to this. Hope to see you out there somewhere.
hugs
from all of us to all of you xxx
January YouTube News
Happy New Year. Another year, another lockdown.
For those who need some light relief here are some links that might help:
We have good news! In February 21 issue of Blues In Britain.
Saints and Sinners Going over Home is Number 31 in IBBAs Top 40 albums 2020!

December News
Greetings to all of our dear friends and fans.
Just when you thought you were too old to be surprised 2020 happened. Nobody saw that coming… the last Spikedriver show was in early March and we miraculously shoe-horned two Saints & Sinners shows into late summer before it all shut down again. It looks like thats it for this year.
FYI the Saints & Sinners 2020 Tour, has now been rebooked for 2021
with the proviso, of course, bla bla bla… keep an eye on the giglist.
Saints & Sinners
Going Over Home
The brilliant new CD is now available in our shop and we are getting some lovely reviews. It ranks number five on the IBBAs most listened to albums for December and rumour has it, this is a great Christmas present. :- )

We wish everyone a very safe and sane holiday.
Next year will better…
Constance, Maurice and Ben

Alain Leclerc
It is with great sadness that we have learned of the death of our French agent and friend Alain Leclerc, pictured above.. Without him we would never have played all the festivals, clubs and cafe's that gave us so much pleasure and allowed us to see, and fall in love with, so much of France. Our thoughts are with Martine and family at this sad time. His memory lives on. Maurice
This very sad news is so much more than losing our agent. Alain became a really close friend and he & his wife Martine have always felt like family. Many travels, adventures, great festivals, food, wine, company, so many wonderful memories. I feel really lucky that our paths met with this wonderful man. Au revoir mom ami. Ben
Chère Martine Je suis vraiment désolé pour votre perte. Alan était un homme unique et je sais qu'il manquera à beaucoup, y compris Spikedrivers. La chose la plus difficile que nous apprenons tous est que pour toujours, c'est maintenant. Que vos souvenirs vous tiennent à travers cette période difficile.
Je t'envoie un ange et tout mon amour.Constance
A Show!!!!!!
Saints & Sinners ... Yes its really happening!
CD Launch Party - 25 Sept 2020
St. Harmonicas
@ the Southgate Club
17 Chase Side
London N14 5BP
We are so excited!!!
Sending you all our best wishes to you and yours during these extraordinary times..
Stay safe, stay healthy

Hope we see you very soon!
Ben, Maurice and Constance
BLUES IN BRITAIN
September 2019
Spikedrivers & Saints & Sinners – still rollin'….
Ben Tyzack, Maurice McElroy and me, Constance Redgrave, are celebrating our 20th year together on the Spikedrivers train. We've travelled countless miles, from way up in the Arctic Circle and back down to the Canary Islands, playing our own brand of mid-Atlantic, rootsy-blues. While we play mostly original material, we also dip into a large selection of the classics as well as throwing in some surprises from the likes of George Gershwin and JJ Cale.
Our tenth album called Across the Water is now available from our website as well as in shops and on Amazon. It took us three years to record, largely because we were having so much fun and you can hear it in the music. "Classic Spikedrivers meets Country Joe and the Fish with a soupçon of The Doors." to quote a friend of Maurice's. There were lots of happy accidents, journeys back through time and a whole bunch of good humour. The end result was definitely worth the wait. Our fans seem to agree and the DJs of the Independent Blues Broadcasters Association did us the honour of making us one of their picks of the month for July. Which is really good because CDs are what keep us rolling…we couldn't do it without them?
And we are already recording another album; this time with our friends Fran McGillivray & Mike Burke in a joint project we call Saints & Sinners - music from the cross to the crossroads. It's a show exploring the space and harmony between spiritual music and the devil's blues. So many blues musicians we know and love spent their early years singing in church. Quite often following a Saturday night hollering in a juke joint on the other side of town. We would never have had the presence, power, truth and passion of Son House, Muddy Waters or "mother of the blues" Ma Rainy without these foundations. They mixed, matched and often struck sparks off each other.
At the risk of being a bit existential, in these dark times when so many are angry, scared or frustrated by where we find ourselves, I think learning to walk that line between the dark and the light is essential for our sanity. Saints and Sinners is an exploration of this shadowland by means of music that has been around a very long time. Old spirituals like Great Day, Up above My Head, Jesus On that Mainline, Down in the River to Pray and Will the Circle Be Unbroken were created out of a need to feel better in hard times. It's not so much about religion; but about optimism and belief that there is a future for us, our country and our children. I for one really need to constantly re-find and hold that mind set every day. One great path towards this are the 'sounds' that make me smile, want to join in with a full voice and go home ready to go forward with a sense of hope.
Saints & Sinners began in 2018 with an idea of musically mashing together Saturday night and Sunday morning, for example Wade in the Water with Take Me to the River. And honestly it's also about our love of harmonising. There is an organic thing that happens when we just sing together without thinking about it too much. The result is often bigger than the sum of the parts and leaves lots of room for the audience to join in if they want to, which they do. Five voices, two guitars, two basses, drums and a whole bunch of percussion. Our first tour of seven shows in autumn 2018 resulted in almost all the venues inviting us to come back this year and do it all over again. We have been recording our first album in the same basement we did Across the Water and hope to have it ready before the shows start in September 2019. The five of us make such a pretty noise, have so much fun and, so far, so does the audience. Everyone leaves with a smile. With an uncertain autumn and winter approaching, perhaps you will join us for a Wade in the Water…
Constance Redgrave
***
NEW SPIKEDRIVERS ALBUM!!
Across The Water
Our long awaited new CD has arrived! Hooray!!!
There have been lots of lovely reviews and comments from our friends and fans.
It's been a three year journey full of fun, challenge and new territories.
We are so pleased with the result. It really is an album in the old sense of the word, meant to be listened to (at least once) from start to finish. Great for driving.
We hope you will agree it was worth the wait.
Its now available in our shop. click here
Hope to see you soon ...
***
Elke Pollard
It is will a sad heart we report the passing of our dear friend Elke. If you have a copy of Front Porch Swing, you will know a bit of her art. If you knew her in person, you know what a huge space in the world she leaves behind.
***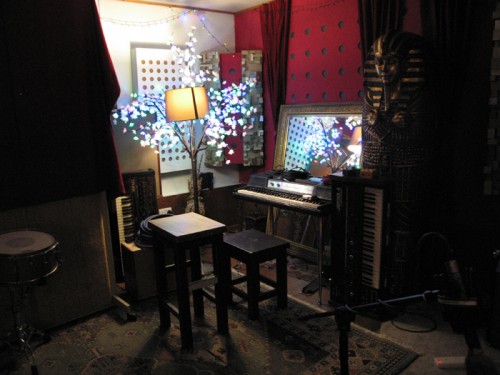 Happy Holidays to Everyone!
As you can see by Maurice's photos, we have been at the most delightful recording studio in Eastbourne called Echo Zoo, where there are many strange and wonderful creatures to be found. We had such a wonderful time working with Phill and Christoph And the best news; the new album is mixed and it's brilliant!
We expect to have it available in early February.
Watch out for the email list special offer!

Wishing you a lovely safe holiday and we hope to see you in 2019.
All best
Ben, Constance and Maurice
***
SAINTS & SINNERS
music from the cross to the crossroads
So, the first S&S tour finished with another brilliant crowd at Dusty's in High Wycombe. This whole project has been such wonderful fun. Working with Fran and Mike has been a joy. The singing and the playing just get more and more inspiring and everyone seems to leave with a smile. The next tour is now booking for Autumn 2019 and the first dates are already in the diary. click here
For bookings ring Ben on +44 (0)7855 328906
featuring
The Spikedrivers
Fran McGillivray & Mike Burke
A concert exploring the space and harmony
between spiritual music and the devil's blues.
Blues and gospel, despite their obvious differences, have
always been linked, perhaps different branches from the same tree.
One developing on Saturday night, the other on Sunday morning.
With five voices, a multitude of guitars, percussion & even
some homemade instruments these musicians create
a world of soul, stories and soundscapes.
Join us for a foot-stomping, gut-wrenching, heart-soaring journey
from the cross to the crossroads….and all points in-between.
For bookings ring Ben on +44 (0)7855 328906
***
Constance releases her book
black boX is her story of the road trip that brought her to a new country
and a new beginning 35 years ago. Dark, intimate and very personal.
***
The Joys of the Channel Islands
Three workshops, three concerts, three islands (one three times!), six flights and all done in five days, door to door. We had quite a wonderful trip last week. Good to be in all that ozone and rebel mentality again.
Our last trip was 2009. Most of this lot were not even born yet!
There is nothing like a workshop with hundreds of singing clapping kids. Kazoos, shakers and stamping feet shook the walls at St James (Guernsey) and again at Jersey Art Centre and Alderney School. The evening shows were just as wonderful. Special thanks to Mervyn, Kirstin, Ralph and all our lovely carers. You made it so easy...
Wonderful YouTube Video!
August 2017
We've just returned from a lovely trip to France. Two very different shows. One at a cider farm called la cidrerie du Lianver with a seriously surreal French trapeze duo. The other in a 12th century church in Saint-Sornin-Leulac. So beautiful and both quite special nights.
We had the added pleasure of two very creative and energetic young people spontaneously deciding to make a video with excerpts from the church show and an interview for YouTube. Amazing what you can do with a mobile phone these days. So hold onto your hats and enjoy the ride...
Sharkhead and Doggie meet the Spikedrivers
Thanks so much guys. Definitely a highlight of our trip
25th Anniversary Tour 2017
This year will be the 25th anniversary of the Spikedrivers. 8 years before I hooked up with Maurice & Constance the band played their first show, making their debut on March 2nd 1992 at The Railway Hotel in West Hampstead, London.
Throughout this year we will be celebrating this with a release of a new CD and also a release of a compilation of the first & second CDs, which have been out of print for a while. At our live shows we will be performing material spanning our entire career and returning to some of our favourite festivals and venues with lots of surprises along the way.
We will also be posting loads of photos and a few memories along the way.
Here's a very early one of the original line up.
Special thanks to my old friends
Mark Harding (double bass) & Ah Chang (percussion)
& also Virginia LaPrade for the photos.

Here's the cover of a the band first recording, a cassette!!! (those were the days)
The band's history seems to be gathering and the current line up has been going 17 years, which is pretty damn good. During that time we've recorded 7 CDs and have traveled many miles, performing at a wide variety of wonderful festivals, venues and clubs, from the Arctic Circle to the Canary Islands. Don't ever listen to those moaning musicians who complain about traveling, playing music really is a great way to see the world and a real privilege.
Thanks to all of you who have supported us over the years.
We wouldn't be able to do it without your wonderful energy, enthusiasm
and encouragement, it's what keeps us going.
XXX
Ben, Constance & Maurice
End of Brooks Blues Bar
Thanks Tony & Ann for creating and promoting Brooks Blues Bar all these years!
It's been a pleasure to play at everyone of the venues that you've had and there's been a few. Always a great night and we're so proud that the Spikedrivers got the chance to record our 'Live In London' CD at your club. You guys deserve a medal for all the work that you've done to keep live music happening. Very sorry to hear that it has to end but with so many wonderful memories Brook Blues Bar will never be forgotten.
We love you madly,
Ben, Constance & Maurice
Sheringham's Little Theatre
Workshop and Concert with special guests
www.sheringhamlittletheatre.com


'Diggin' the Blues by the Roots' will present a unique opportunity at Sheringham's Little Theatre to enjoy an afternoon musical journey with the highly acclaimed trio the Spikedrivers, followed by an evening concert with their special guests Fran McGillivray and Mike Burke
Spikedrivers Blues Workshop 2.00pm & Spikedrivers evening concert 7.30pm
Performances in the Hub with Fran McGillivary and Mike Burke – 12noon and 5.00pm
Spikedrivers 25th Anniversary Concert
@ Crawley Blues Club March 2nd 20017

"Look ma no hands!"
Ben finally finds the secret to guitar playing.
Photo by Graham Hutton.
Spikedrivers 25th Anniversary Concert
@ Crawley Blues Club March 2nd 20017
Maurice and Tony attempting to channel Flanders & Swan
for their anniversary version of 'The Gas Man Cometh' at the end of the night.

Should have gone to Specsavers...
NHS marks AAA screening milestone
Jauary starts with Maurice became the poster child for the NHS Abdominal Aortic Aneurysm (AAA) programme as it marks the screening of its one millionth scan for 65-year-old men. In his own words:
I think you can say that turning up for the screening is probably the only reason I'm still alive. Prior to that I was immortal as are all men - not. So I strongly suggest that any man over 65 who hasn't been screened gets down to their GP and organises it straight away. For more information, click on the links below
https://www.royalfree.nhs.uk/news
http://www.bbc.co.uk/news/health
http://www.islingtontribune.com/blokeshealth

photo by Wendy Auld
Happy New Year one and all
2015 was a funny old thing and some of us missed the first half all together. Never mind. By July we were back out in the real world discovering new places, meeting interesting people and doing shows that are better than ever. No one is as surprised as we are.
So that's it for 2015. Short and sweet. Still alive, still out there doing something…
Here is genuinely hoping you all are healthy, happy and safe for another year.
All best and keep in touch
Constance, Ben and Maurice
Autumn Fires
Robert Louis Stevenson (from A Child's Garden of Verses, 1885)
In the other gardens
And all up the vale,
From the autumn bonfires
See the smoke trail!

Pleasant summer over
And all the summer flowers,
The red fire blazes,
The gray smoke towers.

Sing a song of seasons!
Something bright in all!
Flowers in the summer,
Fires in the fall!
Wilderness Festival
07.08.15
Well that was a surprise. We played the Juke-Joint stage on Friday night. What a marvellous festival! Quite magical and such fun. A wonderful time.
And we will never forget the Chicken Song Chant! Thank you so much.
Before

After
>

Sunday 12.07.15
Well its official. Our ' long dark teatime of the soul' is over. Yesturday we played The Rotherhithe Festival with Maurice back in the saddle. Hooray! Sunshine and killer drums. It was great. We are so looking forward to seeing everyone over the next few months.
The summer looks great for festivals all around the UK.
Check our show list for updates.
'Train Done Arrive'
We were recently in Llangollen, Wales for the Steam Train and Paddle event raising money for Muscular Dystrophy. Fabulous weather (eventually) and we got to play on the platform at Glyndwfrdwy as the train came in.
Check it out either on Youtube: www.youtube.com/watch?v=FBmcHANkm0A
or on our Facebook page: www.facebook.com/spikedriversuk
Live in London News
2014 UK Writer's Poll Blues Matters!
Best live album - tied for 3rd place
Spikedrivers Live in London and Gary Moore Live at Bush Hall
2014 Blues In Britain Radio
Top 25 Played Artists and Albums
- we finished the year at Number 6 !!! Woohoo!
Paul Jones played a track on his BBC R2 show a few weeks back.
All good stuff, and the reviews and comments are starting to come in:
"... at last, this excellent band captured
at full power with the brakes off,
energetic, enthusiastic and unrelenting.".
i-Tunes review
"Splendid performance from the Spikedrivers!
... giving it welly and that's good"
Paul Jones - BBC Radio 2
"Full of innovation with strands of musical styles
from Africa, Flamenco, country and a bucketful of delta blues"
Blues In Britain
Thanks again to all of you for helping us get this one off the ground!
New YouTube Links
click here for a complete 2014 list
Glyndwfrdwy on the beautiful Llangollen Railway - October 18 2014
playing the amazing 'Black 5' into the station
Train Done Arrive
Sun Inn, Llangollen - October 2014
Thunders Walking
Gloucester Blues Festival - August 2014
Steady Rollin' Train
Wrotham Arms , Broadstairs September 2014
Kind Hearted Woman
Thunders Walking

Monets Chicken
Summer Festivals and doing the distance…
A road trip to the south of France, flying to Finland and festivals around the UK. Our flight-cased coffee rig is getting a serious workout this summer. We can recommend the very strong and therapeutic Mexican roast from the Algerian Coffee Stores. Rocket fuel, especially before a show, but we are just as happy brewing up in Ibis, Travelodge or on the side of the road. Rock'n roll...

Giverny photos by Maurice McElroy
And as well as doing wonderful shows, meeting loads of new folks and putting in the miles; we have had a few treats along the way. Most recent was a stop to visit Monets Garden. The Fondation Claude Monet is a non-profit organisation that runs and preserves the house and gardens of Claude Monet in Giverny, France. Looks just like his paintings. We recommend getting there early in the morning (09.00) before the first coach parties arrive. Its absolutely magic in the morning quiet.
See you out there
Ben, Constance and Maurice
Spikedrivers Live in London CD has arrived!
Its mixed, mastered, designed and manufactured, the audience has been sent their free copy and all you lucky folks on our email list have had your chance at a bargain. All and all a very busy time considering there are only three of us! :- )
Thanks again to you fab clappers and stompers at the show. You were just amazing!
For the rest of you, it will be available at the launch party and in the Spikey Shop from the 5th of July.
Spikedrivers Live in London
Phill Brown with The Strongrooms fabulous Neve desk and Patzys lemon drizzle cake
This is our sixth album with Phill and it continues to be a lovely creative experience. For more on his career, recent book and a fascinating interview full of techie stuff and wonderful stories about his long history in the recording business, click here.
drew bang, spikes and phill brown
at the end of a very long weekend and we are delighted to report this album is kick-ass! Our huge thanks to the audience who made all the difference to the atmosphere, both of the recording and on the night. We couldnt have done it without you.
We are now finishing the artwork and knitting it all together.
If you are interested in our email list pre-release offer ,
click here and say Add me to the mailing list!
If you were there 'on the night', dont forget to email the ticket number and postal address to the contact on the back of your ticket. You certainly earned your free copy!

More news coming very shortly!
Ben, Constance and Maurice
spikedrivers live in london
UPDATE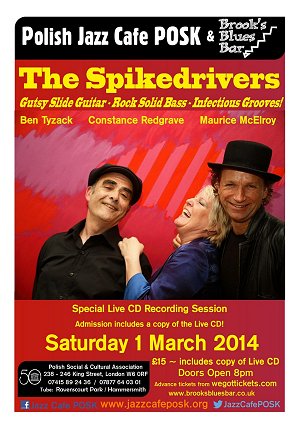 NEW LIVE CD 2014
On March the 1st we will be recording a live concert in London to be released this summer.We are delighted to present this special occasion at the Brooks Blues Bar @ Jazz Café Posk, Polish Cultural Centre 238-246 King Street, Hammersmith W6 0RF. This is one of our favourite clubs run by our dear friends Tony Bell and Ann Rosenberg.
In contrast to our more acoustic 'Front Porch Swing' album recorded in 2010, this new live CD will showcase the Spikedrivers in high-energy-full-steam-ahead mode.
As with all our performances, the audience is a huge part of the energy and chemistry that makes for a great show. With your presence inspiring us to play at our our best, it promises to be an absolutely cracking night!
Tickets are £15 and this will include a copy of the CD for each ticket holder
and these will be sent out to you before its general release.
There are limited tickets available so please book ahead
by contacting Ann from Brooks Blues Bar
email: info@brooksbluesbar.co.uk phone: 07810 647 199
or available from We Got Tickets
March 2014
Sat 1st Brooks Blues Bar @ Jazz Café Posk
SPECIAL LIVE CONCERT RECORDING
Polish Cultural Centre 238-246 King Street, Hammersmith W6 0RF.
www.brooksbluesbar.co.uk
Tickets are £15 and this will include a copy of the CD for each ticket holder
There are limited tickets available so please book ahead
contact Ann email: info@brooksbluesbar.co.uk phone: 07810 647 199
We hope to see you soon,
Ben, Constance & Maurice
***
Thunders Walking
(jigwek bmosewat)
In response to your interest and questions about this recent addition to our repertoire,
Thunders Walking
click here for the lyrics, translation and story behind this song.
My thanks to Geoff Webber for the first youtube offering.
http://www.youtube.com/
Migwetch
Constance
***
Javier Hernandez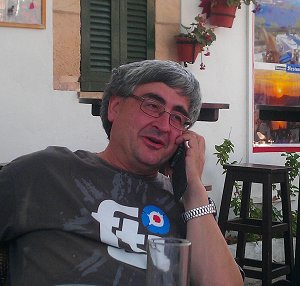 Goodby to an amigo...
It is with great sadness we report the passing of our dear friend and Spanish agent Javier Hernandez. We spent so many wonderful days last summer in his warm and energetic company. He will be greatly missed by everyone who knew him. Our condolences go out to his family and his wonderful team. Via con dios.
all the best
Ben, Constance and Maurice
Helsinki-Vantaa Airport by C Redgrave
A very continental season…
What an extraordinary summer we had this year! Spain to Tenerife, back to Spain's glorious Basque country, back to the UK, then Spain again, then Mallorca, France, and Finland with stop-offs at Canary Warf and Olympia along the way.
For a while Madrid's Aeropuerto de Barajas became a home away from home. Thank heavens for cerveza y tapas. We attempted adverts in Basque, Spanish, French, Finnish, Swedish, English and even a touch of the Mallorcan dialect. Festivals, food and so many new friends. Thanks to everyone for all your care along the way and our special thanks go out to Javier, Alain, and Fia. It was a summer we will not forget.
Writing & Rehearsing
After a very busy summer of touring we will be taking time this autumn and winter to work on writing and rehearsing new material. There's no release date yet for a new CD but all three of us are really excited to start working on new songs.
Booking for 2013
It's also a busy time for us to organize dates for next year. A lot of our touring this year was on the continent but we hope to perform much more in the UK in 2013. One place we really hope to return to is Scotland. It's been far too long and we really miss playing there, plus we all ran out of whiskey ages ago.
We always try hard to stay on top of all the festivals and venues but there seems to be new ones happening each year, so we wanted to ask you if you have been to any that you could recommend to us.
Thanks again for all your support and we hope to see you soon,
All the best
Ben, Maurice and Constance
... just had to share this wonderful poster and review from Tenerife: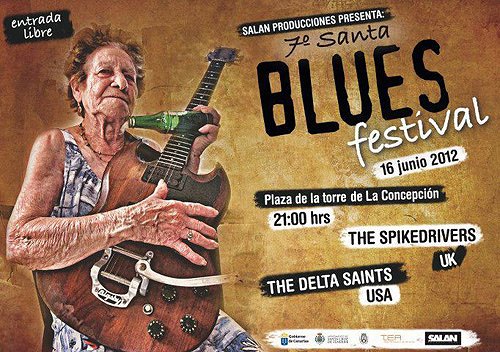 "The 9pm start can be a graveyard slot for the first band at Santa Blues (a bit too early for the locals) but Ben Tyzak, Constance Redgrave and Maurice McElroy conjured up a crowd out of nowhere, drawn by their gutsy, lively riffs. Spikedrivers didn't let up for over one and a half hours during which they kept the audience constantly on the boil with a crowd-pleasing set that chopped and changed gear and style but never dropped its racy pace as it rolled rhythmically along the track"
spikedrivers'
BLUES ROOTS REVUE
spring 2012
Well last night the curtain came down on the final show of our tour. It's been a wonderful journey and the memory will be treasured for a very long time to come. A huge thank you to Fran, Mike and Sam and to everyone who supported us along the way. We couldn't have done it without you.
Spikedrivers' Blues Roots Revue was a collaboration between three of Britain's best live acts in the blues tradition; The Spikedrivers, Fran McGillivray & Mike Burke and Sam Hare. Each did their own thing with their own distinctive style in performance and song writing, but in addition you also heard what happens when three superb guitarists, two stunning bass players, an impeccable drummer/percussionist and six glorious voices came together in different combination. A rare treat
click here for more information and video links
Hawker Hurricane
Maurice's latest Flyinglass piece is going to be featured in the next edition (issue 15) of Aviation Classics magazine which will tell the amazing history of the Hawker Hurricane. This specially commissioned glass panel will be the prize in a competition .
Constance will also have an article in this issue about the Battle of Britain Memorial Flight as well as a considerable number of photographs she has taken over the last ten years. It promises to be quite a collector's item and will be available from WH Smiths, but you had better be quick. It won't last long.
France
And our first trip abroad in our new 'London emission zone friendly' van Spike II was a real success. It was hard letting go of our much loved vintage Mazda but I think the joy of driving up those hills in France outweighed the sadness by about two to one.

Our weekend began with a return visit to our friends at Espace MANUREVA in Charleville-Mézières – Ardennes. Manu and Bernadette make it so easy to do great shows. The audience is warm and friendly and the after-dinner is a much appreciated treat for us. What a nice tradition. Ben's unique new ring tone of La Vie En Rose topped up the evening nicely. Thank you so much.

photo by Martine Bourguignon & Patrice Frezzato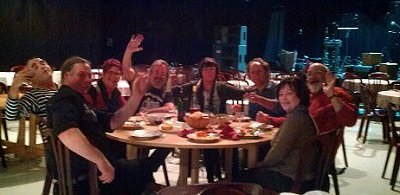 This was followed next day at a new venue for us; "Sang A Klang" in Luxembourg. This is a beautiful old club in an amazing city. Our new friends Claude and his crew were very professional, the audience were loud and enthusiastic and we had a really hot rowdy show. Too much fun! All and all, a marvelous weekend.
Next week Brittany...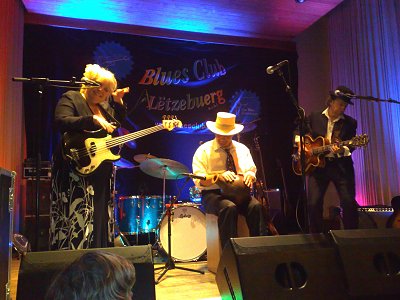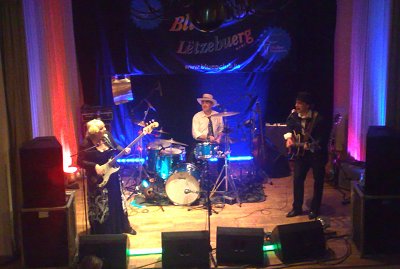 BLUESIN' SCHOOLS
Blues Matters! Nov 11
Spikedrivers love doing blues workshops and Blues Matters! wanted to know more.
click to read interview
And do have a look at our workshops page in the tool bar above.
Get in touch if you have any questions.
Any excuse to get the goats toenails out...

photo: Vesa Vainionpää
Blues Matters!
Writers Poll 2011 Spikedrivers results
UK: Best Live Album: Tied in second place: Spikedrivers 'Front Porch Swing'
Best Drummer: in 5th place: Maurice McElroy
Our thanks go out to everyone who supported us. You are the best.
Blues Matters.com

photo: Vesa Vainionpää
Blues In Britain
Spikedrivers - Front Porch Swing
2011 Best of British Blues
Brilliant!
Radio Session
On Monday September the 26th we will be doing a live session for Sue Marchant
on BBC radio Cambridgeshire. Her programme goes out from 7-10pm and we will
be featured just after 9pm. For the Cambridgeshire area tune in on 95.7 – 96FM or
you can listen live from their website and it will also available on the BBC iPlayer.
www.bbc.co.uk/cambridgeshire
The British Blues Awards were announced earlier this month at the Newark Blues Festival. Our song 'Steady Rollin Train', didn't win but we would like to thank all of you who voted for us. It was very nice to be nominated and also wonderful to receive so many great comments from all of you. Congratulations to all the winners, which you can view at: www.britishbluesawards.com
Steady Rollin Train from new album 'seven'
Nominated - British Blues Awards 2011
Kevin Thorpe Award For Original Blues Song
click here to listen or download the track
Trains & Tracks & Rock & Roll
For any of you who are fans of trains, art deco posters, old clocks and a pinch of the psychedelic, click here to view Bens you tube slide show for our song 'Steady Rollin' Train.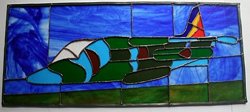 Flying Glass - The Harrier Jump Jet
By Maurice McElroy
One of Maurice's glass pieces has been featured in issue 11 of Aviation Classics.
To see this and more of his work click here
Apache Dreams
Officers Mess Dinner
HQ Wattisham Station
Ipswich
In our time together, Spikedrivers have been privileged to have played in some very weird and wonderful places, but this one has to take the cake. Two weeks ago we were invited to do a show in an atomic bunker under the blades of an Apache helicopter. It could be one of the most surreal experiences of our time together
and yes those really are missiles between our feet.
Thank you gentleman. A truly unforgettable night.
!
'summertime and the livin... '
Its all looking very busy with more trips to Finland, France and Spain as well as many shows here in the UK. Keep an eye on the gig list or join our email list (see top right of this page) to receive an update as they come in.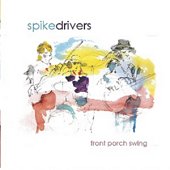 Front Porch Swing has arrived
The double live acoustic album 'Front Porch Swing' is released on the 14th of March and those clever folk on our email list are all raving about it.
Thanks for the feedback guys.
"A double CD, for the price of one, capturing the Spikedrivers in concert at the Hawth Theatre, Crawley. With their previous album 'seven' they showed just how good they can be in the studio. With 'front porch swing' it's three musicians showing exactly why they are regarded as one of the best live bands in the country.
Once upon a time an album like this would have had 'unplugged' somewhere in the title. It's just another side to the Spikedrivers, an intimate, acoustic take on some favourite standards and their own songs for a live audience.

Recorded, as always, by the sound master Phill Brown. A complete concert on two discs. No tricks, no overdubs, just real music played from the heart."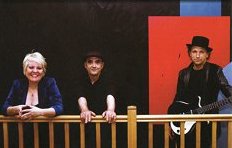 Blues Matters! - March 2011
Interview with Spikedrivers
Interviewer: Alan Harvey
"A Transatlantic Trio with feet firmly set in the UK, but wings spreading into mainland Europe. The Spikedrivers have one new CD out and another on the way. Blues Matters! spoke to guitarist / founder Ben Tyzack, bassist Constance Redgrave and drummer / percussionist Maurice McElroy about the band's current activities and their views on the Blues scene in general. Our meeting was a personal treat, not just for the chance to discuss all matters music with such lovely people, but to witness the recording of a live studio session for the BBC. This was an enormous pleasure and cemented by view of the band as three mastesr of their respective crafts… (read interview)

Phill Brown News
Our fearless recording engineer and co-producer Phill Brown has finally released his new book 'Are We Still Rolling?'. It is available from Amazon and we can really recomend reading all about his amazing career.' Talk about having been there and bought the t-shirt... '
Robert Tilling MBE
On a sadder note, our dear friend Robert Tilling MBE passed over last week after a valiant battle with cancer. Our love and heart felt condolences go out to Thelma and their family. We have added a special web page to share some of the joy that was knowing Uncle Bob. If you would like to learn more about this very extraordinary artist, musician, writer and force of nature click here.
So until we meet up out there somewhere, may you be healthy, warm and safe.
Constance, Ben and Maurice
---
new album 'seven'
Finally its here and on sale in our shop. You can listen to sample tracks and buy the CD, downloadable album and individual tracks . Click here for the page.
We have already had some great reviews from France, Belgium and the UK. Click here.
A request from the band: If you happen to come across any reviews that we have missed could you drop us an email and tell us where you saw it? Its almost impossible for us to check everywhere and we sure would like to know about them.
Thank you so much for your help.
---
'welcome to our new website!'
Its been a long process and the tweaking will probably continue for a while yet, but here is the new Spikedrivers website.
There is a new Worldpay shop interface that is probably the safest and most secure in the world and there is a new album page for 'seven'.
We have to give a huge thank you to our webmaster and loyal friend Tim Callaway for all his hard work putting this together. Working with three artists and three sets of ideas and then turning them into reality was a tough job.
We very much appreciate him for all his patience and late nights. Thanks Tim.
---
what a great summer!
We are home again after burning up the miles in France, Spain and the UK. Our van Spike even got to go to Jersey on the ferry. It's been quite a summer and looks to continue with two more trips to France this Autumn. There is even a rumour of Finland looming on the horizon. "Hölkyn kölkyn"
---
photos from our summer tour
The French & Spanish tour was a lot of fun, performing to lots of people in manywonderful places. If you are interested we have a Flicker site with some photos of the trip.
www.flickr.com/photos/spikedrivers
---
brilliant videos
…. and finally just to let you know about some new concert footage. Our show at the Campaneac Blues Festival in Brittany in March 2009was captured on video by a talented group of film students. You can have a look by visiting this link on their website: http://kertoonstudio.fr/index.php?option=com_vidomino&task=list_videos&cat_id=206
---
planes and boats but no trains
One of the great things about being a travelling band is finding ourselves in places we would otherwise never be. Last week we found ourselves in two very special and quite different ones.
It started on Wednesday when we were in the rehearsal studio minding our own business and the phone rang. The RAF swing band, the Squadronaires, was double booked and could we fill in for them at the Bomber Command Memorial Appeal Banquet hosted by the Battle of Britain Memorial Flight?.
So on Friday night there we were in the depths of Lincolnshire countryside, standing in the sunshine on the lawn of the hotel where the Dambusters used to hang out, champagne glasses in hand, surrounded by people in black tie and evening dress, watching the last flying WWII Lancaster bomber roar over the hotel at about 100 feet. An incredible and for us, a somewhat surreal sight. Not your usual blues gig by a long way.
However, once the meal and the speeches were over it was our turn. We had been told that we should play quietly as the audience was "quite old". Wrong! While some of them may have piled up a few birthdays they were a long way from being dead. By the time we got half way through our set we had a full dance floor and were cranking it out exactly the way we would at any blues club. You just can't judge by appearances. Take off the evening dress, replace it with a Buddy Guy T-shirt and you feel right at home.
Saturday was the boats. This was the Severn Sailing club which is actually on the river Avon. The Avon Sailing Club being, of course, on the Severn. (Don't ask it's too complicated.) We've played here before and it was great being back. It's a small club way off the beaten path in an amazingly beautiful setting. The evening light over the river made the real world seem a long way away.
The club's gigs always involve a pig roast with the members bringing salads and strawberries. We were told an unrepeatable story involving several club members, a large quantity of beer, a long pole and a pig but that was the night before so we can't comment. It certainly didn't spoil the taste.
Once again it was a wonderful evening and ended with us sitting round a bonfire in John & Pat's (the organisers) garden with a few friends and several bottles.
We were only away for two nights but it felt like we had been on holiday. One of those times that remind us how lucky we are to be doing what we do.
---
award winning Live At High Barn
voted number 7 in the list of readers 50 top albums of 2008!!!
Blues Matters!Best Blues
The Blues Albums You Rated Last Year!
Our sincerest gratitude goes out to all of you who voted for us.
Thank you so much. This really means a lot to us.
---
blues in britain competition
As well as receiving honourable mention in the Blues in Britain list of top albums of 2008, we also were the subject of the monthly competition.
The question: Constance Redgrave was sacked from a band,
apparently for smiling too much: what was the name of that band?
The answer: Christian Death
Well done to the winners: CJ Mitchell in Boundstone, Geoffrey Osborne in Bedminster Down, and Merv Osborne in Portishead.
---
new video page
Also, please do check out our new Video links page. A big thanx to our webmaster and friend Tim Callaway. He makes so much possible.
---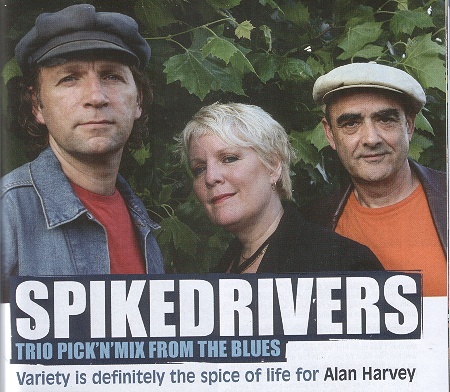 Blues Matters! interview 2008
Coupling unique instrumentation with exceptional musicianship and alternative reworkings of over familiar classics with fresh original songwriting has seen the Spikedrivers outshine many a headliner at a British Blues festival-and made them a live drawer across the country.
Ben Tyzack (guitar/vocals/harmonica), Constance Redgrave (bass/vocals/percussion), and Maurice McElroy (drums/vocals/percussion) draw upon all their years of experience to offer one of the more compelling live experiences offered by any British Blues act. Despite their veteran status and constant touring, the Spikedrivers continue to challenge themselves-and the their audience!
It was inevitable there would be a demand for a live collection, and finally, after a number of false starts, the band were able to offer a memento to their many adoring fans. In 2008, with Live At High Barn-at the same time, offering an incentive to those who really should get up out of their armchair more often…
BM: Ben, when did you form the Spikedrivers?
Ben: The original band was formed in March 1992 with myself, a percussionist called Chang and a double bass player called Mark Harding. That went on for a few years, different players came and went, and then I met these guys.
---
blues in britain
e-letter December 2008
Fran Leslie asked us to write a bit of something for the magazine.
For those of you who haven't heard of us we are Spikedrivers and we play delta style blues except we've added our own twist to it. These days most of our songs are original compositions. Ben Tyzack is our main songwriter, singer and guitarist. He has lots of guitars. Constance Redgrave is our bass guitarist, also a singer and she plays a mean washboard. I'm Maurice McElroy and I play drums, cajon, udu drum and assorted percussion. I also sing a bit.
It has been quite a while now since we had our first mention in the pages of Blues in Britain, or Blueprint as it was then. There's been a lot happening.
A couple of months ago we played the Blues to Bop festival in Lugano and we were sitting in a restaurant the day after the first show talking about how different it was from our first few gigs together. Ben mentioned the fact that he'd been playing with Constance and me for longer than he'd played with any other musicians. We thought about it for a bit and realised that it was the same for all of us. The eight and a half years we've been together was the longest any of us had ever been in one band. Yet it doesn't feel anything like that long. We're still trying to do better shows, write better songs, make better albums and looking to the future.
It's a fact. Time really does fly when you're having fun.
Ben was born in London. He was brought up in America, first in Iowa and then Charleston, South Carolina. He formed Spikedrivers in 1992 when he moved back to the UK.
Ben: "Iowa was a great place to grow up, big skies, cornfields and railroad tracks. A lot of the imagery in my songs comes from there. My father was a painter and also played trumpet in a traditional jazz band. He had a huge record collection so I kind of absorbed a lot of that early jazz, ragtime and blues just by hearing it around the house.
The interesting thing was how it affected me once we moved to the south. I felt like I already knew the musical history of these new surroundings. There was a real sense of belonging. That was also when I started to learn guitar, write music and perform. The connection with the area is still very strong to this day."
The original band released two CDs; Delta Boogie and Whisky River Blues, both now out of print (a compilation is in the pipeline). After several changes of line-up, Constance and I joined in 2000. Since then we have put out four very successful albums Delta Roots; Blue Trash, Ain't It Real and the just released Live at High Barn. Each album is different and they prove you can have your roots in the blues tradition while still breaking new ground.
Constance: "I came to the UK from Los Angeles with the Death Metal band Christian Death. But I grew up listening to country and western music. My grandfather played washboard with Bob Wills. Whereas Maurice started out playing in 60s soul and blues bands, he then did prog rock and worked in theatre. Now he's into flamenco, which is where the Cajon and Udu drum come from. Mix all that with what Ben's doing and there's no way it's going to sound like anyone else."
Over the past eight years we have been working continuously and not only on the blues circuit. These days we're as likely to turn up at a folk or world music festival. Have a look at our performance at the 2007 Shrewsbury Folk Festival or the Crawley Blues Club on YouTube.
So where are we going from here? Well, bigger and better shows we hope. In Lugano we got to sing with the gospel group The Dixie Hummingbirds. That was real buzz and it's inspiring us to do a lot more harmony singing. We also got to play with Ian Siegal, whom we hadn't seen for years. We've been asked to go back and do other festivals in Italy and we've got a new agent for France and Belgium. Good gigs, good food and great coffee. What more can you ask for?
Ben: We're planning a new studio album for next year and we're just about to do a tour with Ben Waters. It's all looking good.'
Constance: "It's been eight and a half years and we still enjoy working together. Long may it continue.'
You can catch the Spikedrivers on tour with the Ben Waters Big Band throughout December and again in February 2009.
---
owls by moonlight
This week Maurice celebrated his forever-fiftieth birthday and to celebrate we went to the Hawk Conservancy Trust down near Andover for a magic evening of owls by flashlight and silent wings flying through the woodland night. It was wonderful. A real treat for anyone who loves theses amazing birds.

Happy birthday Maurice!
---
blues to bop
Lugano, Switzerland
8th to 31st August 2008
Bright sunshine, a gorgeous blue lake, and six days of playing with some extraordinary musicians. As some of you know, over the last two years, Ben, Maurice and I (constance) have been exploring and attempting to incorporate the sounds of Gospel music. When we were invited to Lugano and discovered that the legendary Dixie Hummingbirds would be there as well, we were overjoyed! To have then been given the chance of playing and singing with them was an honour we will long cherish.
Photos by our own webmaster Tim Callaway
www.myspace.com/legendsdixiehummingbirds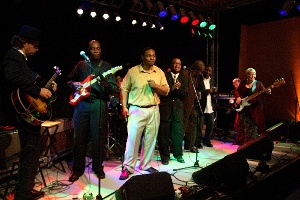 ---
cromer folk on the pier festival 2008
Last weekend was absolutely wonderful fun. Cromer is the best place I know of for Lavender Ice Cream and watching the tractors on the beach. Yes.. Still obsessing about tractors. I will be posting reviews, live photos and such about it as they come in. Till then, here are a few of Maurices prize photos from the weekend.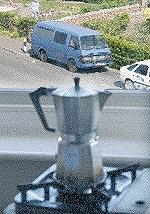 ---
gnome magic
Our travels take to some surprising and wonderful places. In our continued efforts to share the joys of life on the road, I must tell you about our weekend in Essex. Such a surprising and beautiful place. Manningtree and Maldon. Both excellent shows and great fun. The countryside is lovely and the sun was shinning. With a few hours off, it was a perfect time to delve into our extensive collection of travel brochures from motorway services. You didn't think anyone actually read them did you.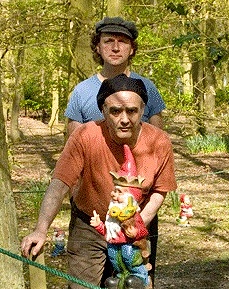 Tacky and bizarre dosn't really do it justice. This roadside attraction must have seen better days. A woodland walk through legions of sadly negelcted gnomage. Surprisingly we had the place to ourselves. The mystery of the missing fishing rod vandalism just added to the strangeness. Still, we loved it and Maurice seemed perfectly at home.
---
best of thursday blues compilation CD
We are proud to announce that one of our favourite blues venues, Third Thursday Blues at The South Street Centre in Reading, has just released the Best of Thursday Blues. It's a compilation of the clubs favourite artists from its first two years. Along with Spikedrivers, there are tracks from Michael Messer, JC and Angelina, Rag MaMa Rag, Honeyboy Hickling and lots more. If you would like a copy for yourselves, you can email wilkinandy@yahoo.co.uk and they will happily separate you from £7 + £1.50 p&p. It a great CD and you will be supporting the club and live Blues in the UK.
---
channel islands tour
Hot on the heels of this fabulous weekend in Shrewsbury, we spent a week in the Channel Islands. This meant Gatwick Airport at first light and the joys of excess baggage. We do try to travel light but it's that extra pair of drum sticks that gets us every time.
The tour started on Jersey, meeting up with proud new grandparents, Thelma and Bob Tilling. We then did four islands in four days with four workshops and four concerts! Our heads were spinning by the end of it, but that's ok because we finished up in a wonderful place called Sark. This is a two mile wide rock where the tractor people live and we seemed to fit right in.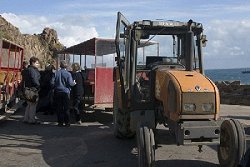 In between, we island hopped to Alderney and Guernsey on these amazing little planes called Trislanders. They only have two seats across and huge windows. We just couldn't get used to the absence of a co-pilot. Still, Maurice was ready to jump in at a moments notice .
Every island, every workshop and every concert was completely different. The workshops were all brilliant and wonderful fun. You can see some blurry shots of the kids from all the islands on our workshops page.
This one is from Guernsey.
---
---
'The essential worldwide roots music guide'

fRoots (previously Folk Roots) is the world's leading magazine covering modern and traditional music with roots from around the globe, from Anglo-trad to Zanzibar pop via the great mixing desk in the sky.
fRoots
root salad
The Spikedrivers
A London-based transatlantic trio taking a different route to the blues, explains Dave Peabody.
It's hard to pin a badge on the Spikedrivers. Just when you think you've got them buttonholed they turn a musical corner, shifting pitch slightly, just to keep you on you toes. Guitarist, vocalist, songwriter Ben Tyzack (American mother, British dad) got the notion to form a group around 1991. "I'd played in lots of bands and having moved back over to England [got] a bit frustrated because here you join lots of bands, practice for ages, and never do any gigs. I had a few experiences of that...it was more sort of rock stuff and I'd always been interested in the rootsy blues stuff, so that's when it dawned on me if I started a band myself, and tried to push the signing a bit forward, then I'd always have that and if other members came and went I could kind of build on it."
| | |
| --- | --- |
| "A sound can inspire a painting the same way that a painting can inspire a song." | Photo - Dave Peabody |
Indeed, over the years many members did come and go, until Irish-born drummer (and percussionist) Maurice McElroy and Californian bassist (and percussionist) Constance Redgrave took root to stay and form the current innovative, creative and versatile Spikedrivers line-up with Ben. Constance positively bubbles as she comments; "It's been six years now and I still feel like we are on honeymoon. I've never been anywhere that felt musically so comfortable and yet so much fun. I seem to have more scope finding out where I can go here than I've ever had anywhere else. I write more, I sing more, I take chances, I play, and I don't care if I make mistakes. The mistakes are where the really fun stuff happens and those are the surprises. I don't have to worry about these guys. If I screw up they are not going to fall apart. We sort of hold each other and we all take turns just doing what we do and it's always fun to find out what happens next."
Maurice is quick to echo Constance; "I'm doing more in this band than I've ever done in any other band. I never used to sing at all until I joined this band. All of the percussion - that comes in because you can. It enables me to play with all of the elements of what I've learned over the years. In most other blues bands the chances of picking up a pair of brushes, for example, I mean, forget it. Here I can do it and I can bring in the weird stuff line the Udu drum and the Cajon and nobody thinks you are mad. Ben just does 'Oh, that's an interesting sound' and then a little while later we end up with a song that suits it. Being on stage with the two guys is about as good as it can get. I just feel like all the time it keeps changing and like Ben says, "it's growing all the time and there doesn't seem to be any limits on it."
Constance has a theory; "If it's blues... it's blues and it doesn't really matter what you bring to it if this is the format; I think that's why we can be so wide-ranging and have so much variety. We have a very wide view of what it is. I think my songs are blues... and maybe they are contemporary blues, I don't know. My history is very wide-ranging; I went from growing up with the Grand Ole Opry and listening to C&W, through a whole period of doing Gothic music... and I'm a prog/rock kid from the West Coast. So, you've got all of these influences coming into this, and now what's on in the background in my house is chill-out compilations. So those rhythms and those sounds become part of what you're writing and they come out in it."
"I don't think I ever envisioned a final 'this is what I wanted it to sound like', says Ben. 'It was more about playing the music, doing a bit of writing and kind of keeping the early roots of blues in there, but bring in lots of other influences. We all write. I'm obviously the main writer in the band but I think there's every combination. Sometimes I'll bring a song in and it's pretty much complete but needs a really good arrangement. Sometimes it's almost arranged. Other times it can be constructed right from the word go, but usually lyrics and melodies are sort of there."
'Again", chips in Maurice, "this is one of the elements of this band that is actually so much fun; getting the arrangements, of actually finding a way of saying what is it that will absolutely make this song complete, without any extraneous stuff tacked onto it."
They have produced three albums together: Delta Roots (2001), Blue Trash (2003) and their latest, Ain't It Real (2005), with all three band members, contributing songs and ideas that are sparked by many influences. Maurice; "Ben's father's an artist, a painter, and we as a band when we're traveling get a lot of inspiration from visiting places like the Yorkshire Sculpture Park. If there's and exhibition on in a town that we have enough time to see - we'll go and see it. We look at that stuff all the time and that feeds in. When you're talking about creativity it's not all the one thing. A sound can inspire a painting the same way that a painting can inspire a song. In particular, when we were doing the last album, Ben was bringing in these bits and pieces. Some were already songs. Some later became songs. I got this impression that some of the work that he was doing was like painting but using sound. It was like a different way of looking at it."
---
MAMAS vote spikedrivers 'best live act of 2005'

We are also pleased to announce that MAMAS (Muthill Acoustic Music Appreciation Society) up in Perth & Kinross, Scotland, has voted us 'Best live act of 2005'. Norman & Sandy have been running a wonderful club there for some time. They always book very high quality acts which makes this accolade very special to us. Thank you! They have recently moved to a new venue and you find out all their information from their website: www.mamas.org.uk
---
new stuff in the spike shop!
The last three Spikedrivers albums are now available as complete digital downloads with artwork.
Click on the shop button or here to visit the Spike shop.
There is also a free Spikedrivers screen saver available from our website. This includes a selection of photos. The file is 2.2 Mb in size, on an average dial-up connection it will take about 5 minutes to download. Once downloaded, double click on the file and follow the instructions to install the screensaver.
Many thanks to Andrew Cronshaw, Dave Montier, Paul Martin, Sam Hare and Katie Dahlstrom for the photographs in the Spikesaver.
Click here to download your free Spikesaver!
Ben, Constance and Maurice