2014 UK Writer's Poll Blues Matters!
Best live album - tied for 3rd place
Spikedrivers Live in London and Gary Moore Live at Bush Hall

2014 Blues In Britain Radio
Top 25 Played Artists and Albums
- we finished the year at Number 6!!!

The new album was worth waiting for & illustrates, once again, that you guys create magic!!! Thank you.
Lorraine Barber


it's quite superb!
David Packham




Live In London 2014
"Splendid performance from the Spikedrivers!
... giving it more welly and that's good"
Paul Jones BBC Radio 2
Reviews
---
Blues Alive 76 -
The release of this CD gives me great pleasure as I find its listening, energy, joy of life, spirit and musicality of this group that I know having seen in concert. This "Live in London" fully reflects their concert with a very good sound; the program: 11 tracks with 8 original compositions, 2 covers,"Lil 'red rooster' Willie Dixon," Kind hearted Woman "by Robert Johnson and one adaptation of a traditional blues," John Henry.
"The Spikedrivers are celebrating this year their 15th anniversary, still a trio since their beginning. Maurice McElroy (drums, vocals and percussion), Ben Tyzack (guitar, vocals and harmonica) and Constance Redgrave (bass, vocals, harmonica and washboard) intervene in turn during the concert and variety of voices prevents weariness to listening. Fans will enjoy the playing with finesse and our buddies on their respective instruments.
This album definitely very difficult to get out of the player it's very good
original text in French
Les albums qui tournent en boucle.
La sortie de ce CD me fait énormément plaisir tant je retrouve à son écoute, l'énergie, la joie de vivre, l'entrain et la musicalité de ce groupe que je ne connaissais que pour l'avoir vu en concert. Ce « live in London » reflète totalement leur concert, avec un très bon son ; au programme : 11 titres comprenant 8 compositions, 2 reprises « Lil ' red rooster » de Willie Dixon, « Kind hearted Woman » de Robert Johnson et 1 adaptation d'un blues traditionnel, « John Henry ».
Les Spikedrivers fêtent cette année leurs 15 ans d'existence, toujours en trio depuis leur début. Maurice Mc Elroy (batterie, chant et percussions), Ben Tyzack (guitare, chant et harmonica) et Constance Redgrave (basse, chant, washboard et harmonica) interviennent à tour de rôle durant le concert et cette variété des voix évite toute lassitude à l'écoute. Les amateurs apprécieront le jeu toute en finesse et nos compères sur leurs instruments respectifs.
Cet album a décidément beaucoup de mal à sortir du lecteur, c'est très bon signe.

---
The Musician - Winter 2014
It's a treat to hear this blues trio translate their live magic onto a recording. Maurice McElroy and Constance Redgrave's rollicking grooves have the impact of a rhythm section three times their size, while Ben Tyzack's inventive licks will be ringing in your ears long after the CD finishes.

Reviewers: Keith Ames and Tom Short
---
Blues in Britain - August 2014
The Spikedrivers at their best singing live, full of that free and easy charm that makes the music they deliver so distinctive. Put Live in London on the CD, turn the lights down low and pour a glass of wine and it is just as if you have the company of this friendly group in your front room.
This is a high energy full-on sound a distinctive change from Front Porch Swing as they deliver eleven tracks where the music permeates into your blue soul veins with their western swing take of the blues. Many of the tracks feel familiar as some have been recorded before, others you will have heard at gigs and festivals. Constance Redgrave with her bass, vocals and percussive implements, Ben Tyzack on his guitar and harmonica, and Maurice McElroy on drums and percussion. This may be comfortable but the music is full of innovation with strands of musical styles from Africa, Flamenco, country and a bucketful of delta blues.
The album flows on to a destination that no one knows where it is, stops and swirls around. The musical delight is personified in the intro to 'Lil' Red Rooster and is added to by the slight gruff vocals of Ben. This CD is full of hidden magic and a rhythm that beats in time with the beating of your heart. The listener is instantly engaged. The album is full of sassy passion, vim and pure joy as they play what they love. The most original track award must go to Massy Fergusson Blues a jolly good track full of percussive textures, jaw dropping slide guitar, a touch of the harp and Ben's vocals singing about a poor tractor with a cold engine. This album will leave nobody out in the cold as the warmth of the live sound washes over you.
Liz Aiken
---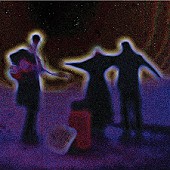 'Across The Water'
our latest cd is on sale now
click on the cover
---
Distributed in the UK by:
Available from CD Baby in
the US and Canada:

---