black boX
On the road with CHRISTIAN DEATH November 1983 to June 1984
By Constance Redgrave
<jargon> An abstraction of a device or system in which only
its externally visible behaviour is considered and not its
implementation or "inner workings"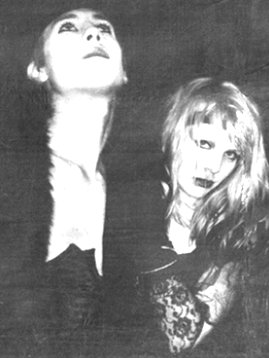 "An intimate picture of life on the road
with the world's first death metal band."

Winter 1983, Hollywood California, the second incarnation of Rozz Williams band Christian Death begins rehearsal for a European tour and new album, Catastrophe Ballet. Heralding the American gothic / deathrock movements, this album is still considered an influential and ground breaking masterpiece.
And in the background, an unknown bass player, Constance, was pulled in at the last minute, little knowing the epic journey she was about to undertake. Seven long months later, penniless with only her camera, guitar and a suitcase, she was left abandoned in Paris, broke, emotionally bankrupt and heartbroken. This is the cautionary story of a young girl, a black box from a crashed dream and the restless remains she kept hidden under her bed for 35 years.
The result is a detailed and utterly fascinating story; a snapshot in time. It is written with style, substance and an intensely personal voice, with unseen photographs and behind the scenes observations. Life on the road writ large.

Photo by T. Callaway
constance
a quantity that is unknown but assumed to have a fixed value
in a specified mathematical context.
Constance Redgrave was born in Los Angeles California and has lived in London England since 1984. She spends her time touring and recording with the band Spikedrivers, photographing vintage aviation, and fostering cats.

black boX is her only book…so far
Please note:
there are many colour photos in this book . Kindle devices tend to be black and white so are fine for reading just the story. However I really recomend you download the free Kindle software onto your tablet, smart phone or laptop to see black boX at its best.
Reviews
Goldmine (US version of Record Collector magazine)