michael tyzack - 1933 to 2007
| | | |
| --- | --- | --- |
| | | |
| | Koln (1971) | |
A big part of what makes the Spikedrivers special is who we are and where we come from. We're all very proud of our families and our heritage, whether it's English, American or Irish.
My dad, Michael Tyzack, died recently. And Constance suggested we should have a page on our website dedicated to Michael's life. He had a huge influence on me – musically, artistically and of course as a father. He was a painter, teacher of fine art, and a jazz musician. He encouraged me to learn the guitar, and in the early years of my music career sat patiently blowing jazz tunes on his trumpet as I thrashed out rhythms from an old chord book. Later, I often had the great pleasure of sitting in with his Dixieland band in Charleston when I went to visit. As I grew up, we developed a friendship beyond simply father and son. And now looking back, I realize what a truly special person he was.
So the info that follows here is a brief history of Michael's life, taken from various sources, as well as some photos of his paintings. We hope you'll enjoy it.
…There will be plenty more photos of Michael's work on this page to come. So please check back now and again.
And finally, thanks to all of you who emailed, phoned and sent cards to express your thoughts when you heard about my dad's passing. Each and every message was heartfelt and will be cherished.
Thanks,
Ben
The Independent(UK) - 19 April 07
Painter and jazz trumpeter who exchanged Sheffield and London for Charleston, South Carolina
Michael Rodney Tyzack, painter and teacher: born Sheffield, Yorkshire 3 August 1933; married 1959 Patricia Burgin (one son, one daughter; marriage dissolved 1990), 1993 Anne Carson; died John's Island, South Carolina 11 February 2007.
Michael Tyzack was one of the most distinguished British abstract painters to have settled in the United States in the last half-century. He went to teach and became a revered mentor for many young artists, telling them that "without risk, there is no serious painting".
Initially Tyzack did not cross the Atlantic to settle, although he had for some time hankered to visit the country whose artists had made such an impact in Europe after the Second World War. When in 1971 he was invited to become visiting artist to the School of Art and Art History at the University of Iowa it was for just two semesters. This was gradually extended until he remained five years before moving to the School of the Arts, College of Charleston, in South Carolina, where he remained as Professor of Fine Arts.
Tyzack said that the transformative event in his career was winning first prize at the fifth John Moores Liverpool Exhibition in 1965, where the jury chairman was the influential American critic Clement Greenberg. Tyzack's prize picture, Alesso B, was a seductively coloured acrylic on canvas. Although apparently completely abstract, it alluded in its title to the Renaissance painter Alesso Baldovinetti's Portrait of a Lady in Yellow, in the National Gallery, a reproduction of which was pinned to Tyzack's studio wall.
Robert Hughes and Norbert Lynton were among other critics to praise Tyzack's work, Lynton supporting him in his first one-man show at the Axiom Gallery, London, in 1966. The Walker Art Gallery, Liverpool, acquired Alesso B. Asked how he would like viewers to respond to it, Tyzack answered simply: "I hope it gives them pleasure."
Michael Tyzack was born in Sheffield in 1933, only child of Vincent Tyzack, a cutler, and his civil servant wife, Claire. They were proud and encouraging when Mike was enrolled at the Sheffield College of Art and Crafts, then achieved a place at the London University Slade School of Fine Art, gaining his fine art diploma in 1955.
On vacation in Sheffield and lacking a studio, Tyzack heard that the Sitwells' family seat Renishaw Hall had abundant rooms and outbuildings. He asked for somewhere to paint, and a space was granted. A bonus, Tyzack's first wife Patzy recalls, was the butler bringing a cup of tea on a tray. More daunting was a visit from the poetess Dame Edith, demanding: "Young man, what are you doing here?"
Tyzack had influential teachers at the Slade, among them the Slade Professor William Coldstream, Lucian Freud and William Townsend. In 1956, Tyzack won a French Government Scholarship in Fine Art and left for Paris, later spending time in Menton. Pictures painted in the south showed the influence of Cézanne and a tendency towards abstraction.
While at the Slade Tyzack had met British abstractionists such as Patrick Heron and William Scott and in the move from realism to abstraction he followed the course taken years before by another Slade teacher, Victor Pasmore.
When he returned to England after his stay in France, Tyzack spent several months working as a professional jazz trumpeter. Jazz had been a passion from his youth in Sheffield. He played in bands there and at the Slade, and after marriage in 1959 with his wife visited the London clubs to hear such admired bands as those of Ken Colyer and Humphrey Lyttelton. For two years Tyzack played with the Oriole Jazz Band, a Bristol group that recorded. "For Mike it was a serious business," says Patzy. "He would listen, whereas I thought we were going to dance and leap about."
As a trumpeter Tyzack admired Louis Armstrong and Bix Beiderbecke, but his jazz interests were catholic. The music informed his painted work, as in the acrylic-on-cotton-duck picture Blue Monk (1982), finished as Tyzack heard of the pianist Thelonius Monk's death. The sombre blue work reminds us that a psychological, emotional significance underlies its apparent abstraction.
Anyone who knows Tyzack's mature geometrical abstracts could appreciate his respect for the work of such artists as Malevich and Mondrian. More surprising might be his reverence for those natural celebrators Matisse, especially, and Monet. Tyzack spent his 30th birthday seeking admission to Monet's garden at Giverny, only to be turned away because it was closed for renovations. Patzy recalls:
So he climbed over a wall and lay in the garden among the wistaria and rambling roses drinking his large bottle of champagne. The photographs he took are probably among the last before the renovations took place.
While teaching at such institutions as Cardiff and Hornsey colleges of art, Tyzack continued laying the foundations of a prolific exhibiting career, which would include over 50 British and overseas group show appearances. Among them were "Painting Towards Environment" (Bear Lane Gallery, Oxford, with an Arts Council tour, 1964), "New Shapes of Colour" (Stedlijk Museum, Amsterdam, with European tour, 1966) and the controversial "Documenta 4" (Kassel, 1968). In addition, he had over 20 solo exhibitions.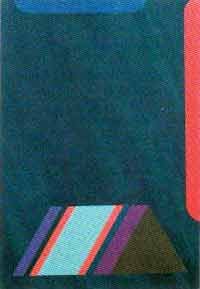 His first solo show after moving to the US was at the Corcoran Gallery of Art in Washington in 1973 and in 1978 he was given a retrospective at the Frances Aronson Gallery in Atlanta, Georgia. The move to Iowa in 1971 affected the way that Tyzack saw the world, witness his acrylic-on-cotton-duck Nocturne (1972), in the collection of the Indianapolis Museum of Art. Although abstract, it is essentially lyrical and pastoral.
"Having spent most of my creative life in dense, crowded urban environments, I seemed to experience the open expansiveness of the sky, as seen for the first time, in Iowa," said Tyzack. "This spatial expansiveness became incorporated in my paintings." He believed that the special quality of light in the Charleston area "informs my colour choice almost as much as my emotions".
A serious car accident in the 1980s led to long and painful months, stretching into years of slow recovery. When he returned to his art, Tyzack exhibited a series of Small Nocturnes, drawings in mixed media on paper. In 1989 he went back to his diamond motif, which had begun with his painting Kremlin (1961). In 2001, it dominated his impressive solo exhibition at the Halsey Gallery, Simons Center for the Arts, in Charleston. "Appropriate to the Moment", a title appropriated from the teachings of Zen Buddhism, comprised 18 works completed between 1989 and 2001. Tyzack's colour variations were so subtle that sometimes they did not seem to be there. "Pessimists see an absence of colour, optimists the potential presence of colour," he said.
By now, Tyzack had work in three dozen international public collections, including the Tate Gallery, the Arts Council of Great Britain, the Victoria and Albert Museum, the Gallery of Ontario in Toronto, the Kunstmuseum in Berne, and the Arts Commission of South Carolina, Columbia.
Tyzack retired as head of the College of Charleston's art department in 2005, when he became Emeritus Professor of Painting. He retained a studio on the campus and continued to teach, where his lust for life, generosity, quintessential Britishness, dry wit and aphorisms were appreciated. When a visiting former student expressed disappointment with graduate school compared with what had gone before, Tyzack wryly commented: "You thought it would be Nirvana, but it was bananas."
Until a few weeks before his death, Tyzack continued to play jazz with his Dixieland band Authenticity. On trips to England he would jam with his guitarist son Ben, who has a recording group, the Spikedrivers.
David Buckman - The Independent (UK)
---
School Of Art, College of Charleston (US) - Feb 2007
In Memoriam
Michael Tyzack Professor Emeritus, Painting
Aug. 3, 1933 - Feb. 11, 2007
Born in Sheffield, England in 1933, Michael Tyzack studied at the Slade School of Fine Art, University College London, gaining his D.F.A. (Lond.), in Painting, Drawing and Printmaking in 1955 from London University. His most influential teachers were William Townsend, Victor Pasmore, Lucien Freud and Sir William Coldstream.
In the past five decades, Tyzack was the recipient of many distinguished awards, including a French Government Scholarship in Fine Art, First Prize in the 1965 John Moores Liverpool Exhibition, (Jury chairman: Clement Greenberg), a Welsh Arts Council Commission and several College of Charleston Foundation Awards. His one-person exhibits span some 35 years and include those at Axiom Gallery, London, England; Richard Demarco Gallery, Edinburgh, Scotland; Galerie Allen, Vancouver, Canada; the Corcorcan Gallery, Washington, DC and cities throughout Southeastern USA.
His most recent solo show, "Appropriate to the Moment," consisted of a series of eighteen lozenge shaped paintings made between 1989 and 2001, held at the College of Charleston's Halsey Gallery in September 2001. The accompanying catalog also contains 22 color reproductions, and essays by NY curator and critic Judy Collischan, art historian Diane Chambers Johnson, and Halsey Gallery director, Mark Sloan.
Since 1955, his work has appeared in over fifty group shows in the UK as well as: France, Switzerland, Holland, Italy, Brazil, Australia, Canada, etc. and such international surveys as "New Shapes of Color" originating at the Stedlijk Museum in Amsterdam, "Documenta IV" in Kassell, Germany and "Systeemi/System" in Helsinki, Finland. Most recently his work will appear in the forthcoming exhibition "British Abstract Painting and Sculpture from 1960 -1970" at Tate Liverpool from April 5 through October 5, 2003. His paintings are in the permanent public collections of over 30 museums, including Tate Britain, London, England; National Gallery of Wales, Cardiff, Wales; Gallery of Ontario, Canada and the Kunstmuseum, Bern, Switzerland. Tyzack's extensive critical bibliography includes a citation in the new edition of "Dictionary of Artists in Britain--Since 1945"

Editor, David Buchman.
Michael Tyzack taught and lectured extensively in both the UK and North America and was a Professor of Fine Arts at the College of Charleston from 1976 until 2007.
Through its Foundation Office, the College of Charleston has established "The Tyzack Prize" to be awarded annually to a graduating Studio Art major who demonstrates exceptional artistic promise. Winners will be selected by the Studio Art faculty. To make a contribution, contact the College of Charleston Foundation, and specify the "Tyzack Prize Fund".
---
MP3s
Michael Tyzack was also a passionate musician. Below is a track featuring his work in this very different field of art.
Riverside Blues - Oriole Jazz Band 3:04
---
Art Gallery
Alesso B
1965 First Prize at the Fifth John Moore's Exhibition in Liverpool
acrylic on canvas 84"x72"
Walker Art Gallery, Liverpool UK

Nocturne
1972
acrylic on cotton duck 78"x54"
Indianapolis Museum of Art, Indianapolis, IN, USA

Blue Monk
1982
acrylic on cotton duck 96 "x54"


Intimate Papers #1
1987
mixed media on paper 44"x30"