"One thing is certain; this album is guaranteed to be in my Top Ten list for this year."
Rootstime– BE




Seven 2010
ITunes - October 10
Lucky Number Seven
By Tertiary Adjunct
This band never fails to surprise and delight. This album is a subtle and varied case in point, ranging from comedy, rock, goth and gospel to traditional blues with a twist. Despite the changes in pace and arrangement, no track seems out of place, and no song seems forced. These are three people with a wide variety of styles and accomplishments to their credit, and all their skills come in to play on this startlingly different and original album.
Guitarist, main songwriter and singer Ben Tyzack shows just how hard he works on this collection, bringing new guitar sounds and styles, as well as a stronger, more mature and wider ranging voice to his nine original songs. His 12-string work on Steady Rollin' Train has overtones of Hendrix but throughout the album there is a new sensitivity of touch that is particularly apparent on the soft and mellifluous Such a Southern Place To Be and the intolerably sad Guided By Spirits. His work on Constance's Come the Glorious Day has the feel of Jonny Jenkins and brings a New Orleans Voodoo feel to the song. His growth as a musician is matched by a powerful emotional honesty, there is anger, love, joy and inconsolable loss in these songs. Be warned, this is not an easy ride of an album, the price of listening is an emotional roller-coaster and the price is high.
Drummer, percussionist and singer Maurice McElroy also brings a new style to this album. His prodigious talents as a drummer are legendary, as are his fabulous comic stylings that have become a favourite at live Spikedrivers gigs. Of his two songs on Seven, My Rooster Stopped Crowing is a traditional Maurice song, full of the wit and the easy charm he invest in all he does. Liquidate My Trouble is something new however, a beautiful darkly sad tale; pathos, delivered in a style that will leave your eyes moist. His delivery is the first time I have heard an audible shrug of the shoulders at the inequities of life.
In keeping with surprises, Constance Redgrave, bass player, percussionist and singer serves up her own. There is a new feel to her bass playing; something softer yet more powerful drives many of the songs with bounce and éclat. Her two songs are remarkably different to previous offerings, which often had a Native American feel. Come The Glorious Day is a gospel theme wrapped in Voodoo rhythms, conjuring an image of Creole bayous and Louisiana joints, not unfamiliar territory for this band. However, her other track is the surprise of the album. Natalie Walks is a sung ghost story. There is something incredibly eerie about this song, from Maurice's percussion to Ben's shimmering, almost transparent guitar. It is a very difficult song to describe, you have to feel it. Constance's voice is the big change here. Always emotive, but not the most powerful voice on previous albums, suddenly there is a strength and subtlety. If you can imagine Marianne Faithful, Bessie Smith and Eartha Kitt rolled in one, and the range such an amalgam would have, then you have a feel for her new voice.
As ever, the key to the Spikedrivers is not the individual parts. Yes, each member would shine alone, but together they transcend the sum of their parts. In this group effort lies the biggest change on this album.. Their musical work has always been incredibly tight, focussed and yet spacious, but now their harmony vocal work joins this skill to provide the band with a powerful new tool, yet one which is wielded with a delicacy of touch befitting them. This adds a whole new depth to their songs and a visit to a live gig has become a must. Spiked River Blues uses this new harmony with power and style, but their arrangement of the traditional John Henry is where their new collective sound reaches peak effectiveness on this album.
Lastly, there is a wonderful surprise on this album, the inclusion of guest musician Clive Ashley on several of the songs. Widely regarded as one of the finest saxophonists playing today, Clive shows an ability to blend and separate himself in the melody that is simply intoxicating. If the key to the Spikedrivers is their ability to leave vital space and air in tight arrangements, then they have found a worthy addition indeed in Clive, who always adds, never subtracts.
To sum up, this is a masterclass of musicianship and harmony, and shows real growth and expansion, both individually and collectively. The Spikedrivers have a willingness to push the boundaries, the accepted norm of the blues genre, which while making them difficult to classify, does make them truly unique. This is simply a gem of an album from a band who refuse to stand still. Bravo.

Reviewer: Tertiary Adjunct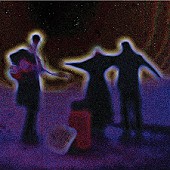 'Across The Water'
our latest cd is on sale now
click on the cover
---
Distributed in the UK by:
Available from CD Baby in
the US and Canada:

---