ben's gear
Searching for sounds
"Are you sure there's only three of you?" someone once asked as we were unloading all our gear from the van. I think we all like having a variety of sounds to choose from and hopefully using all these different instruments creates interesting textures for our songs.
As a musician the search for your own sound can be quite a journey and sometimes a continuous one. I've always loved to experiment with sounds, techniques and equipment.
When the band first started I was trying to get quite a pure acoustic sound out of my guitars. The trouble was at that time I really hated the under saddle type of pick-ups, especially since I'm mainly a finger picker. They just sounded sterile and nothing like the guitar. After a few rather expensive experiments I decided to change directions and started using magnetic sound hole pick ups, some of these were quite cheap but distinctive. It wasn't a pure acoustic sound but somewhere in between acoustic and electric.
After that I started getting into old arch top guitars. I absolutely love them and feel right at home with this style of guitar. The sound and feel is really alive and you pick up on the resonance of the instrument much more than with a solid body electric. I use quite heavy gauge strings on all of my guitars. This adds an acoustic quality to my sound and changes the way I approach the guitar, you kind of have to fight a little for each note.
As I often say, I'm a dedicated and faithful husband but as far as guitars go I'm a complete slut. I think most guitarists are the same and as you get older they just seem to accumulate. I've also been given some lovely instruments too. In fact I'd say the best guitars find you, rather that the other way round.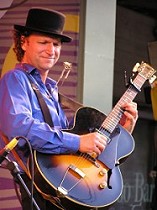 1952 Gibson 125 with P90 pick-up
A really versatile guitar for me, from delicate warm jazzy tones all the way to driving blues. For live work this guitar stays in standard tuning but on the last album 'Seven' I used it in many different open tunings. Baby Born (open E) – Such A Southern Place To Be (standard) - When Love Begins (open G5)
Ghost Train Shuffle – Live At High Barn


Two Left Feet – Ain't It Real


You Don't Care – Blue Trash


Hey Hey – Delta Roots

Late 50's early 60's Hofner Committee – with modified Broadway pick-up
I bought this guitar almost entirely on its looks, I mean come on look at that headstock!
One of my main guitars for slide, it has a beautiful clear ringing sound when played clean but can turn quite nasty when cranked up. I use it mainly in open 'E' as heard on Spiked River Blues – 'Seven' and occasionally in an 'E6' tuning as on Oklahoma Stardust Blues from our CD Blue Trash. That tuning has a real Hawaiian / Western Swing flavour, or as Maurice rather poetically called it 'Pineapple Jazz' tuning.
Soul Searchin' Blues - Live At High Barn


I Believe I'll Dust My Broom - Live At High Barn


No Expectations – Ain't It Real


Stop Breakin' Down Blues – Delta Roots

Lowden S23 with DeArmond & LR Baggs Ibeam pick-ups
A wonderful small body acoustic that just seems to get better with age. This one has two pick-ups, the DeArmond which goes through the amps and the LR Baggs I-beam sent through a DI to the PA for a more acoustic sound. It's tuned to a low 'C' tuning that I made up myself and with the two different signal paths it creates quite a big sound.
This guitar and tuning came into it's own on our album 'Blue Trash' and featured on 7 tracks. The tuning is close to what is known as a Baritone guitar, which I think is in 'B'. The little twist that I came up with was to switch the 1st and 2nd strings around. So from low to high it goes: CGCGEC. Having the high E string (representing the major 3rd in the chord) in that position creates some interesting textures. Finding all these new chord shapes and intervals really inspired me as a songwriter.
It was also at this point that the band introduced some unusual percussion. With Constance on Zydeco washboard, Maurice on Udu drum combined with myself playing the low tuned Lowden, a whole new sound for us developed.
John Henry – Seven


Blue Trash – Blue Trash


Grampa Was A Moonsiner - Live At High Barn


Mornin' Train – Ain't It Real

Home-made Resonator
This old guitar probably gets the most questions from people when they see us live. It was a gift from the original bass player in the band Mark Harding. As well as a fine bass player Mark is no slouch on guitar, this was his main instrument before switching over to Double Bass. He and a friend built the resonator over a weekend out of a few different guitars. I think the neck came from a Hofner and the body from a classical guitar. The pick-up is from a Woolworth's Strat and the resonator cone is a
metal mixing bowl with a metal colander acting as a cover plate. It's definitely a one off. Over the years it has become a real signature sound for me and I've used it on every album, usually for slide and in many different open tunings.
Easy Money In Hard Times – Seven


Guided By Spirits – Seven


Scarecrow Eyes - Live At High Barn


Lil' Red Rooster - Live At High Barn


Hold Me Still – Ain't It Real


Rhythm Guitar – Delta Roots

Martin Backpacker acoustic
Bought for taking on holiday but it has such a nice tone that it makes an occasional appearance with the band. Since it sounds kind of plunky and banjo like it's useful for finger picking. I played it on Hold Me Still from our Live At High Barn CD.

Crafter SA12 12-string
This is a fairly recent addition to the collection. I've always loved the sound of a 12-string and my old Eko featured a lot when the band first started out. The Crafter has an acoustic pick up and a 'lipstick' style electric pick up. To create a really big sound I use an open C# tuning which is like open E but tuned down a step and a half. Then I shortened a capo to go over just the top four strings at the 7th fret. I also tuned the low strings to Ab, which gets a bit flappy but combined with the capo gives the guitar an amazing range, from a very high mandolin like sound all the way to a low bass rumble. I have no idea why but I decided to file a hole in the capo to let the 2nd string play from the nut. A bit wacky but I really loved the sound and a few chords that came out of that are a bit of a mystery. All this mucking about inspired me to write Steady Rollin' Train from the new CD 'Seven',

plus a few others which are in the pipeline.
Epiphone acoustic 12-string
Used on Guided By Spirits – reprise from 'Seven' and tuned to open Eb.

An extremely home-made Diddly bow
Built very quickly to demonstrate at one of our school workshops where the slide guitar style came from. It's constructed out of an old bed frame, a Lyle's Golden Syrup tin, a Glenmorangie tin and a single guitar string. It does feature on the new album but I'm not telling where, you have to search for it.
…and a few others
1938 Vega Archtop
40's Dulcetta – BS- London Banjo
60's Silvertone 1457 electric
Danelectro 59-DC Reissue
Italia Mondial Classic electric
Yamaha acoustic FG something?
Eko Rio Bravo acoustic 12string
Old parlour guitar #1
Old parlour guitar #2

When I was about 15 and playing guitar for a year, on old nylon string classical guitar which was a bit hard to rock out on, a massive shift took place. One day my old friend Everett Bigbee put an electric guitar in my hands showed me how to play 'Jumpin' Jack Flash' and plugged me into a cranked up fender amp. YEEEEOOOOWWWW!!!!
…I've been hooked on Fender Amps ever since. The three I use live are a late 60's Fender Super Reverb, 70's Fender Deluxe Reverb and a 90's Fender Pro Jr. All have been modified by my friend and amp guru Jesse Hoff. Jesse also builds his own amps and has started his own company, Lazy J projects.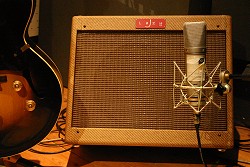 I was really honoured when he loaned me one of his Lazy J20 amps for the recording of our new CD. It really sounded amazing, warm yet clear and very sensitive to ones touch on the guitar. I'm saving up for one now to call my own. These amps have been getting rave reviews and you can't argue when Pete Townshend, Eric Clapton, Joe Walsh (Eagles) & Mike Campbell (Tom Petty & The Heartbreakers) are just a few of your happy customers.
When I was young and doing more heavy rock stuff I really liked using a few effects but when I originally headed into a more rootsy acoustic style I didn't use any. These days I now incorporate quite a few effects into my style. Being able to change from the rootsy acoustic style to a sound with much more edge really appeals to me and even going into psychedelic areas has a place in our music. Like anything, use it too much and it has little effect but a little here and there can add quite a lot of dynamics and emotion.
For live work I have a pedal board that only changes a bit now and then but in the studio I'll bring in extra things to experiment with.
My guitar signal is sent to:
Legendary Tones Time Machine Boost - Pre Amp
Boss TU-2 - Tuner
Lehle P-split - Spliter
1st split signal
DOD 250 Overdrive
Boss DM3 analogue delay
Fender Deluxe Reverb
2nd signal from spliter
Ibanez CS9 - Stereo chorus
Split again into two signals
1st signal
Live 6 Verbzilla - Reverb
Fender Pro Jr.
2nd signal
Danelectro Cool Cat V2 Transparent overdrive
Fender Super Reverb
Extra stuff…
Morley Power Wah Fuzz
Sigmound Micro tube Double Drive
TC electronic Phaser
Pro Co - Rat – Distortion

…and sometimes simple is best
I really love working with all this stuff but there is something very organic and calming when I just sit in a room with nice acoustics, grab my old Vega and just play….magic.