Mike, Constance, Maurice, Fran and Ben
** SAINTS AND SINNERS*

*
music from the cross to the crossroads
This is a joint project between Spikedrivers and our friends Fran McGillivray & Mike Burke. It's a show exploring the space and harmony between spiritual music and the devil's blues. So many blues musicians we know and love spent their early years singing in church, often following a Saturday night hollering in a juke joint on the other side of town. We would never have had the presence, power, truth and passion of Son House, Muddy Waters or "mother of the blues" Ma Rainy without these foundations. They mixed, matched and often struck sparks off each other.
At the risk of being a bit existential, in these dark times when so many are angry, scared or frustrated by where we find ourselves, we think learning to walk that line between the dark and the light is essential for our sanity. Saints and Sinners is an exploration of this shadowland by means of music that has been around a very long time. Old spirituals like Great Day, Up above My Head, Jesus On that Mainline, Down in the River to Pray and Will the Circle Be Unbroken were created out of a need to feel better in hard times. It's not so much about religion; but about optimism and belief that there is a future for us, our country and our children. We really need to constantly re-find and hold that mind set every day. One great path towards this are the 'sounds' that make us smile. Everyone wants to join in with a full voice and go home ready to go forward with a sense of hope.
Saints & Sinners began in 2018 with an idea of musically mashing together Saturday night and Sunday morning, for example Wade in the Water with Take Me to the River. And honestly it's also about our love of harmonising. There is an organic thing that happens when we just sing together without thinking about it too much. The result is often bigger than the sum of the parts and leaves lots of room for the audience to join in if they want to, which they do. Five voices, two guitars, two basses, drums and a whole bunch of percussion. Our first tour of seven shows in autumn 2018 resulted in almost all the venues inviting us to come back the following year and do it all over again. We recorded our first album in the same basement we did Across the Water and it came out in September 2019 just before lock-down. The five of us make such a pretty noise, have a lot of fun and so far the audience does too. Everyone leaves with a smile. Perhaps you will join us for a Wade in the Water…
The Saints & Sinners CD!!!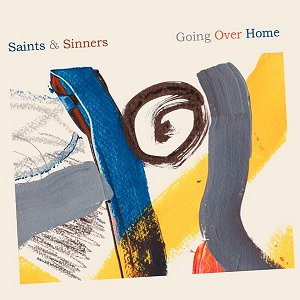 Going Over Home (2020)

Click and listen
to 1 minute samples
| | |
| --- | --- |
| Track | Play |
| Keep Your Hand On the Plough | |
| Up Above My Head | |
| Train Done Gone | |
| I'll Fly Away | |
| Hear Me Talking To Ya | |
| Crossroads | |
| St James Infirmary | |
| Good Old Wagon | |
| Nobody's Fault But Mine | |
| Jesus On The Mainline | |
| If You'se A Viper | |
| Death Came a'knocking | |
We really hope to see you very soon.
Mike, Constance, Maurice, Fran and Ben
www.spikedrivers.co.uk
www.franmike.com