Review - Maltings Arts Theatre, St Albans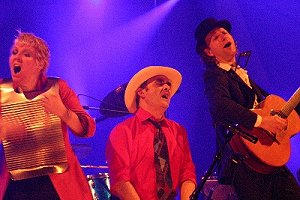 Workshop nails the blues
Maltings Arts Theatre, St Albans
If you ever lay awake at night wondering what goats' toenails would be like to play then The Spikedrivers laid that one to rest.
The renowned blues band brought some southern warmth to the Maltings Arts Theatre in St Albans on a dampish November night.
The trio sound more like an orchestra owing to the vast amount of percussion instruments they play - including the aforementioned goats toenails.
The first half of the gig consisted of a blues workshop which sounds dull but was absolutely fascinating, fun and educational. This trio visit many schools with their workshop and I guess the kids would love them.
The group is made up of two Americans - guitar guru, singer and all-round cool dude Ben Tyzack from South Carolina and Constance Redgrave from California, who plays bass, goats toenails and a washboard among many other wild and woolly instruments.
Maurice McElroy on drums, vocals and percussion hails from Belfast in Northern Ireland and also talks the audience through much of the history of the blues - fleshing out all the things you thought you knew but only in a skeletal fashion.
I never knew why trains were so frequently mentioned in connection with the blues but they were a symbol of freedom to African slaves dropped into a country so huge they had no idea where they were and trains were their only viable means of escape.
It was also back to basics with Constance's master-class on clapping. She taught us how to do cool clapping using a backbeat instead of the usual saddo style beloved of the uninitiated.
The atmosphere these three conjure up between them is amazing - one minute you're in a smokey, swampy bar in downtown Alabama and the next in Paris, Texas, as Ben's bottleneck guitar-playing brings the haunting soundtrack of that Wim Wenders film to mind.
The second half featured many of their own songs as well as some classic blues covers from the likes of Robert Johnson and Willie Brown.
A big part of their act is their wonderful physicality and sheer enjoyment of what they do....
So often musos adopt a laid-back, cool pose meant to perhaps enhance their reputations as serious technicians. But I guess smooth operators like The Spikedrivers don't need a mask to hide behind. It's so infectious to see people enjoying what they do. They got the audience singing, clapping and even dancing at the end.
Mary Brosnan